This is my first
real
post.
Let me start by thanking all the contributors of this fine board for helping ease my path.
Hopefully imagevenue, the host I have chosen will be acceptable.
Here goes...
During an end of season
inspection
I noted cracks along the leading edge of my
rudder
.
After talking with the
builder
and previous owner it became apparent that the
rudder
has a
history
of collecting
water
.
Last week I took a cabinet scraper to the rudder and removed all the
bottom paint
so I could more closely evaluate the damage. Clearly there have been previous
repairs
to the leading edge in Toy Boxes [a 27' Precision sloop] 20 year
history
.
The spade rudder is 2 halves FRP skin, PU foam
core
bonded together with polyester putty and has a stainless hollow tube post with an unknown type of flange welded to it...in other words, a typical spade rudder on an
Edson
radial wheeled
steering
system.
I would pull the rudder and follow Don Casey's advice on repair except Toybox also has a
Raymarine
5000ST
autopilot
. Removing the rudder post in this circumstance is so complicated with the
autopilot
that I want to try a permanent fix without removing the rudder post.
In a sentence, my permanent fix strategy is: repair the
delamination
, glass the leading and bottom edge,
epoxy
barrier coat the entire rudder, caulk the rudder post where it enters the rudder and
bottom paint
.
Here are some pictures:
Leading edge. Note color differences that indicate previous cracks/repairs the entire length.
Delamination area Closeup:
Percussion soundings on port side with findings marked:
Percussion soundings on starboard side with findings marked:
The 3/16" holes in the bottom confirmed that the foam core was still damp after 7 months.
I set a fan under the rudder and ran it 14 hrs for the last 3 days and will continue til work starts.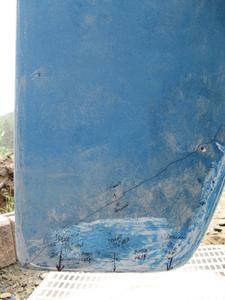 Details of cracks noted on bottom...before holes and kerfs made:
Rudder post and delrin ring @ entrance:
This is the short
scope
of work:
Prep damaged area in accordance with answers to Burning Questions below
1. Use colloidal
epoxy
to repair the
delamination
on the port side.
2. Use microballon and/or colloidal to fill and fair cracks and holes
3. Use 4" 6oz
fiberglass
tape to glass the leading edge and bottom.
4. Drop rudder several inches to gain access to rudder post and rudder top.
5. Prep and sand rudder post and rudder top.
6. Epoxy barrier coat rudder top-4 coats
7. Caulk rudder post to rudder top.
8. 80 grit prep and bottom
paint
rudder top
9. Reinstall rudder
10. Epoxy barrier coat sides and bottom of rudder-4 coats
11. 80 grit prep and bottom
paint
rudder sides and bottom
Burning questions:
1.
Research
and common sense suggests the main entry point of
water
is the juncture of the rudder post and the rudder top, but sight evidence suggests water has gained entry along leading edge only. The job would be much easier if I only had to glass the leading edge, barrier coat and bottom paint. Dropping the rudder even a few inches means the possibility of loss of alignment in my
steering
system. I need historical advice please.
2. A test clamp of the mobile area of the port side indicated that debris inside the rudder will need to be removed before I can loosely clamp it fair. What would be the best manner of relieving some of that debris without causing more damage.
3. Should all the cracks [including the delaminated area ] be widened [V-groove with church key or other]? I like the ragged area @ the delamination...lots of fingers, but am concerned about the lack of surface area for the colloidal epoxy to
anchor
to.
4. I bought 3M 5200 fast cure for the caulk @ the rudder tube. My investigations since suggest that 3M 4000UV or Sikaflex-221[both polyurethanes] might produce a more flexible long lasting seal. Recommendations on caulk and prep in this area would be greatly appreciated.
5. I will be using West System products as they are most readily available, so detailed advice on procedures should preferably reference West's nominclature. [I have System 3's excellent The Epoxy Book too] The bottom paint is
Interlux
Micron CSC. I shop in Denver CO, so supplies and infrastructure found on the coasts are limited here.
6. I know I sometimes over ponder stuff. I strive for perfection. If you see I am being too anal feel free to set me straight.
Cheers and Thanks
__________________