Sounds great.... Sails (and
mast
(as biggest investment)) on multihulls are the power behind you can have a sportive sailing... and if its not your target to see a higher number on the log (close to 20 knots) at least let us be clear about, that Multihulls do have much higher loads on sails (roughly the double). Which require some other tool kits beside the sails.
And you need a different sails plan, e.g. 50% main sail + 50%
jib
(while monohulls have smaller main sails and bigger jib). I suppose you have something around 47-49 m2 each (~ 490-520 square feet).
First I would analyse the
specialists
as you are out of this business since 10 years. e.g nowadays it is typical to have a square
head
mainsail
which didnt exist the time you let make your sails. Its no more for
racing
boats only, meanwhile it is adapted to cruising multihulls.
For my understanding there are only some few sail makers around the globe who have built up a deep
knowledge about Multihulls
... and own departements.
Naturally as everywhere the knowledge comes from extreme sailing, e.g. racing cats and trimarans... which slowly swaps into the
marketing
segment of cruising one can buy it at an affordable prize.
So I would ask first (and lurk around at) the
top 3
sailmakers for multihulls; I like to addresss following names as all have own departements for
multihull
sails (cruising/racing cats + tris):
All three are represented world wide with a big network of lofts (up to 80 around the globe).
Quantum I would count as the most "fresh company" which demonstrates a very customer oriented
service
as you already can see by all the helpfully advices you find on their website.
UK Sailmakers are conservative as we know sail making companies since the 90th... and Doyle can be counted with a deep high-tech knowledge as they
service
big racing yachts. Profound deep knowledge.
If somebody have another name, feel free to share and give critical feedback.
If you expect a good consulting, probably all three will advice you with first question:
What kind of sailing ?
(and not talking about cuts) - Is it just (
A
) cruising, is it (
B
) cruising and little bit racing or is it (
C
) racing + some cruising or (
D
) racing ?
I suppose you probably will think about (A) or (B) :-) Right ?
2nd question is about "
weight
" and "
performance
". E.g. Quantum uses "
woven polyester
" and - as they call it - as own registrated trademark/product "
Fusion M
" which has lower weight (roughly 15-20%).
Doyle likes to believe in
Dacron
sails for long-term durability and relative affordability beside some high tech products. Doyle is only talking about "
Cross cut"
produced with
woven Dacron
(or
laminated
) under the aspect of durability, with the negative side effect to have less shape (eventually relevant on ambitiously racing boats).
TriRadial
is suggested by Doyle only under the size of 40 Foot boats in different materials (e.g. Carbon, Pentex, Polyester, Spectra, Technora, Twaron and Vectran).
The difference between cross cut and triradial is clear ?
Here to read
. Simple the formula: High Tech material (e.g. laminates) have TriRadial...
Naturally the TriRadial (2nd picture) has a higher performance, as the "warps" can be designed exactly along the biggest forces. So its reducing material = reducing weight. But these sails are more sensitive. For a cruising sailor not required, as they are more expensive.
On a
Multihull
you need to turn it around. Not the
jib
will be Triradial, because of the bigger work load on the main sail it will be triradial. A very expensive and complicated sail.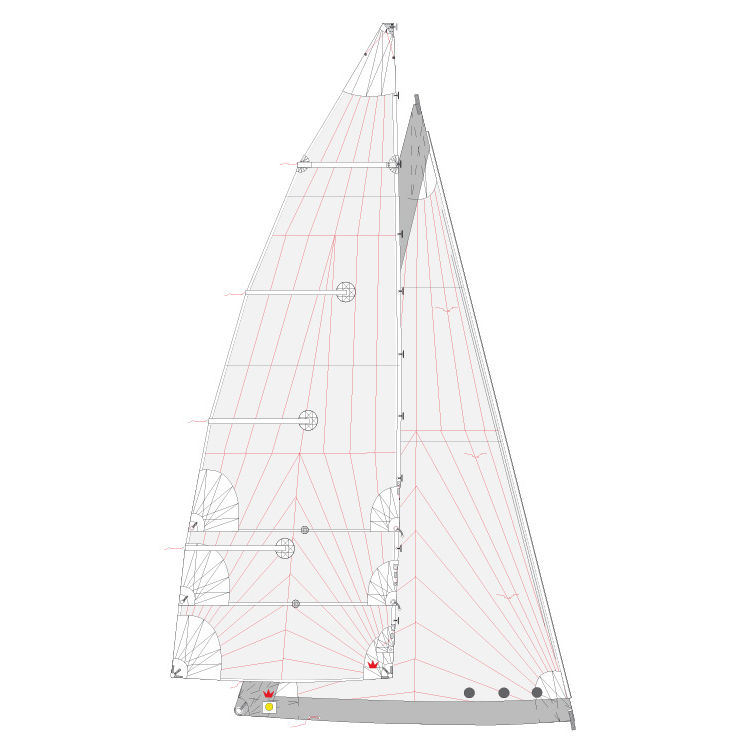 -------
My own background: Having started sailing in the 70ths on my own I am searching now for
buying
a speedy cruising
Trimaran
(with living on it); actually I got an option to take a closer look at a 40 Footer (with 60 foot mast)... with a 42 m2 main sail and 35m2
genoa
(upwind: 77 / reaching: 170 m2 with a 128 m2 gennaker).
As it looks I can take these sails for some more years, so far I will buy it. If I should decide for new sails in couple of years, for now I would request a proposal by all upper named three.... to get a more clear picture about what the experts would like to suggest for such a boat. And I would always contact the headquarter first (easily done nowadays via
email
+ skype) as there is the whole knowledge bundled.
In tendency I like the way how Quantum works and their
philosophy
... as I wont
race
(probably then I would decide for Doyle). UK Sailmakers is too conservative for me, just boring :-) ... and I never would go to a giant like North Sails... they are over-dominating the market. Mass production... one of many. - I would feel very bad to have a
sailmaker
which feels like a big concern as North Sails is. But that is just my personal opinion.
Good luck with your new wardrobe ! ;-)
----
P.S.: Have you thought about another light
wind
sail ??? Check out Screecher if you think you like to have higher performances in light
wind
. Great sail with top down furling. I would have to invest into as the 40 foot
trimaran
misses one. Most multis have weak sailing abilities in light winds.