This thematic came up for me not when seeing the
stretched ORMA 73
... it came up when I fell over the
Trimaran Pipeline3
... slipped back into the
water
after a
refit
.
Originally its a 46 footer (LOI: 54 ft.) and a
Kurt Hughes
Design...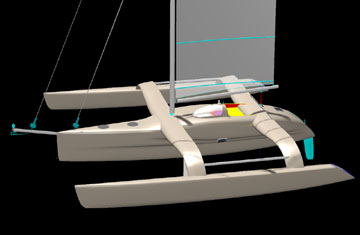 I love Kurt's beautiful designs. Especially looking from front the main
hull
of this
boat
has wonderful curves flowing into the beams...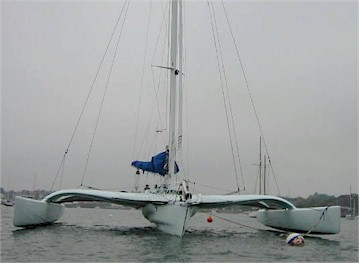 So I got interested in this boat which is heavily overpowered by a 72 Foot carbon
mast
with 44 foot beams, 6 berth and a total
displacement
of 11 tons. Length over all is 54 Foot inclusive bow sprit.
Pipeline3
was stretched... better known and sailed before it's
refit
in 2014 as
Trimaran
"
Faamu Sami"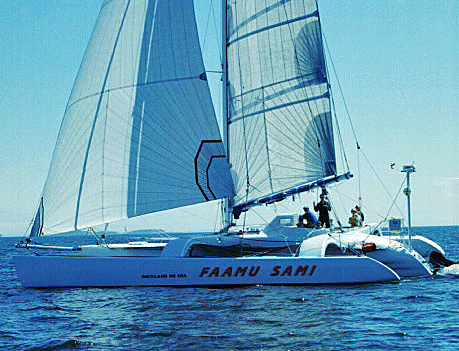 ... as you can see between following both pictures the relevant difference:
The bow of the ama has been changed from a traditional profile into a "reverse bow" for better 'wave piercing'.

Old...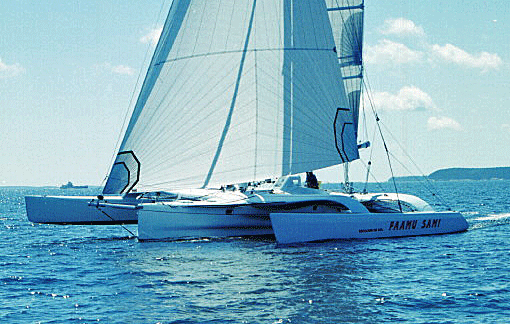 New...
The boat bilder company Lyman-Morse (LM) in
Maine
(USA) did this great job to give Pipeline3 in 2014 the wave piercing bows. Originally the boat was built in 2001 by Dick Vermeulen of
Maine Cat
in Bremen, ME.
Here the way how this job was done by LM...
Back to the
water
with new wave piercing bows...