Here's something on the fire from the latest 'Lectronic Latitude:
Photo of the Day: Fire Breaks Out on Catalina Island
May 11 - Catalina Island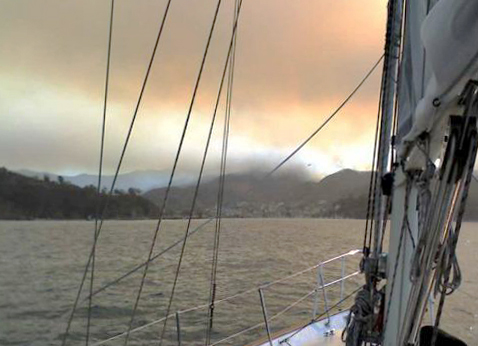 Dan and Rey Yarussi arrived in
Avalon
yesterday aboard
Tropical Dance
, their
Gulfstar
Sailmaster 50, for their yacht club's Mother's Day
cruise
and golf tournament only to find that fire had erupted during their trip over.
Photo Courtesy Reylyn Yarussi
Fire broke out on
Catalina Island
shortly after noon yesterday, quickly engulfing six square miles and threatening the famous city of
Avalon
. While firefighters worked to contain the blaze, ferries ran through the night to evacuate hundreds of residents and vacationers. "You couldn't breathe," one evacuee said, "and ash was falling like snow." By this morning, more than 500 firefighters had been flown in by Camp Pendleton's Blackhawk and Chinook helos, and dozens of fire engines had been brought over via hovercraft. Five water-dropping helos and as many fire retardant-dropping air tankers were also doing what they could to contain the blaze.
Aided by the night's still air and dewey conditions, firefighters appear to have slowed the fire's quick march to Catalina's most popular spot. Though one home and a few businesses outside the city fell victim to the fire, and more than 1,200 homes have been evacuated, Fire Chief Steven Hoefs reported this morning that "the risk has been reduced significantly and most of the structures have been protected."
Catalina Island
, which suffered from a similar blaze on the other side of the island last summer, has seen only two inches of rain since January and, like the rest of SoCal (think Griffith Park), remains extremely vulnerable to carelessly flicked cigarette butts, campfires and just about anything else with spark.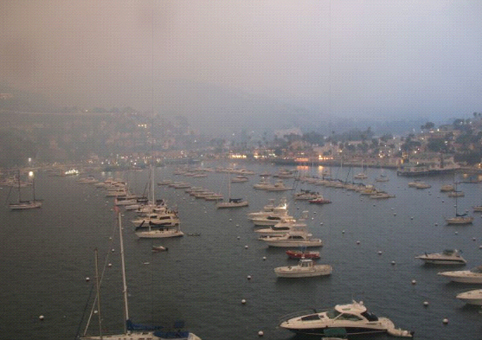 The
Catalina
Casino webcam clearly shows the choking blanket of smoke covering the town last night around 8 p.m.
Photo Courtesy Visit Catalina Island - Hotels, Packages, Tours, and more.
©2007Latitude38PublishingCo.,Inc.
- latitude / lb
TaoJones