By way of update, thought I would share a post I made on the PearsonAriel.org web site. Peter did fantastic on the crusie!
Mike,
Now, you have done it.. you when and asked about Peter.....
Quote:
I have a question on Peter: how did you manage the pooch's potty on board while on long voyages? I've been thinking maybe a small roll of astro-turf that could be washed out over the side after he's done? Seems over optimistic to think he'd hit the target, being a boy and all it seems like it could get pretty messy...
Like many other aspects of this
cruise
, we were told we were nuts to take our 75# lab with us on the Ariel. It worked out wonderfully well.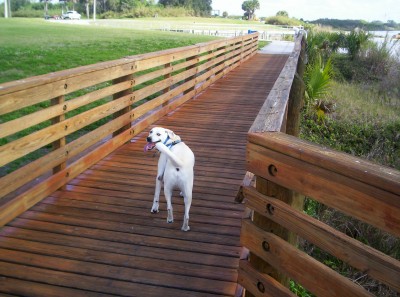 We were concerned with his
health
and
safety
and determined to make plans that got him ashore as needed. Discussions with our vet confirmed that a dog can be injured by 'holding it' too long If you think of the average house dog's life, there is a morning break before folks go to work and then one or two in the evening. We made this our minimum for Peter and kept to it on all but one occasion.
Doing coastal cruising we would make sure to take him ashore first thing in the morning, and then again when ever we would
anchor
for the evening. We would often go back ashore after dinner or later in the evening as well.
On off shore passages we were fortunate to either leave in the morning and arrive the same evening, or to depart in the late afternoon and sail through the night (when he would normally sleep anyways).
He slept well onboard;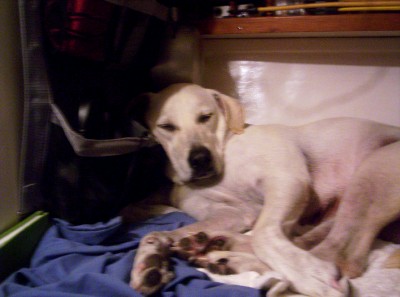 Peter on the
passage
to West End;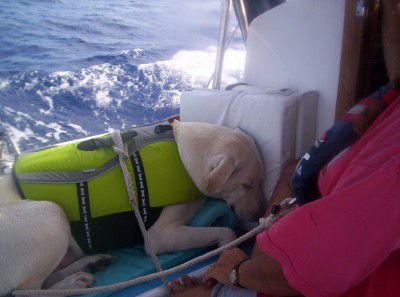 The 'mat on the foredeck' idea seems like it is good for larger boats, but on board an Ariel there is no part of the boat that is not Peter's 'den'. We did not try the mat, or the 'box of sod' as some suggested. We did find out that Peter would go on the foredeck once. He was taking Prednizone for an ear infection which makes a dog drink lots and lots of
water
(kind of like I drink coffee in the AM). We had only been underway for a couple of hours but he gave me the sign that he needed to go ashore (for him, a paw on the arm, and a soleful look). I was crossing some bay at the time, and land was a few miles distant. He paced the
deck
, and then paused on the foredeck. In spite of our praise (which seemed to confuse him) he sulked and acted embarrassed afterwards. A couple of buckets of water later the deck was fine, but as we use the deck for water collection I would not want that to be an onging thing.
Having Peter with is made a wonderful trip all the better. Here he is surveying the rocks outside of Hatchet Bay, Eleuthera;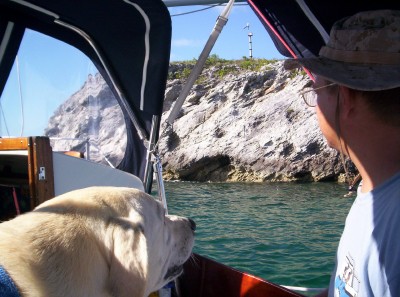 I enjoyed exploring some islands I might not have seen otherwise, and took some walks I might have missed had he stayed home.
One of our beach walks;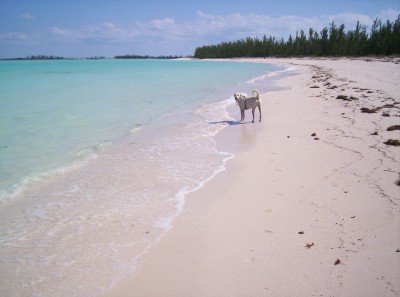 Looking at his home, Man O War harbour;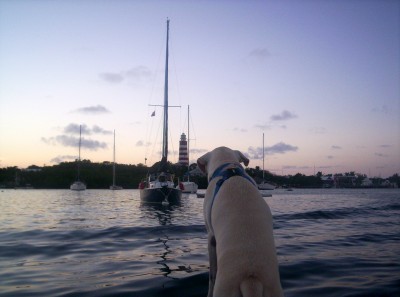 If I were going to make multi-day passages I might not want him with me, but for island hopping or coastal cruising it worked out just fine.
He really enjoyed the trip as well, and the only time he was upset was the night before we had to rent a car and drive him home. Rose's mother passed away while we were near LaBelle FL. The funeral was in Michigan, so we had to rent a car and drive him ~1200 miles round trip home to
Pensacola
and get clothes for the funeral. (this was how he looked when we told him that the
cruise
was over for him);