I've done this with two spin poles attached to the
mast
, and also using a telescoping whisker pole attached to the mast for one
jib
, and the other jibsheet taken to a block attached to the end of the boom. I had the main deeply reefed and the boom held out with a preventer.
This is a wonderful downwind configuration. We've used it in conditions ranging from mild and calm, to strong winds and fairly large seas. You do get more rolling when going dead downwind, but that's going to be the case with any sail configuration. The twin headsails work great to keep us pointed in the desired direction, even when we've got quartering seas trying to push us around. It takes a while for me to set this up, so I only rig it when I plan to use it for more than a few hours. We've gone days at a time with it. With both
sails
firmly attached to the headstay, this is *much* more stable than a regular symmetrical
spinnaker
.
You could probably hoist the second
jib
loose-luffed, as long as the luffrope can take the tension. I usually use the spare jib
halyard
to hoist the second jib. This is easy (my headfoil has two slots), but it means I have to drop that jib before I can roller-furl jib #1. I've also hoisted both jibs at the same time, using one
halyard
. This way I can furl both
sails
at once.
I've never used the classic twizzle configuration, which has the two poles lashed together and not attached to the mast, so I can't say how this compares to the twin mast-attached setup.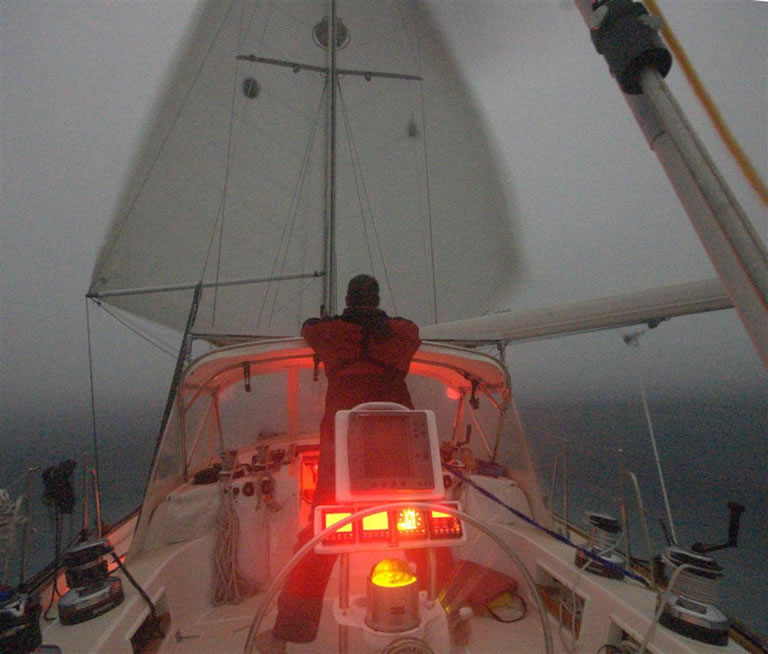 In the above

photo

the whisker pole extension

hardware

had broken so we were using it in the collapsed mode. I think my regular spin pole was also broken at the time. I see that the starboard jibsheet is attached closer to the middle of the boom -- It was probably easier to attach it there. I'm a big fan of doing things the easy way! The main was completely furled here, but I often just reef it when using twin headsails.

__________________