Quote:
Originally Posted by
Pelagic
Exactly right Jim.....as I find in my schooner.
But then again, 'Gentleman don't go to Windward'
Seriously, coastal is mostly what I want to do now but if I do need go to windward, a reefed headsail or small staysail is sheeted in as are the 2 loose footed mainsails..... and I motor sail at about 900rpm...doing about 7 knots.
Balances well on hand
steering
with that little help from my
Perkins
.
Obviously I am not a purist.
The benefit of a schooner or
ketch
is simply in splitting sail area so that
sails
are a manageable size to handle. This was more important when people were using blocks for leverage rather than winches and even still important with small manual winches. Today with
electric
or hydraulic winches, the original purpose of the
ketch
or schooner rig is OBE.
When we were looking for our cruising boat, we were looking for a pre-WWII vessel that had been originally built as a cruising vessel. The boats we looked at built in that time frame in the USA were by and large schooners and those we looked at that had been built in the UK and
Europe
were by and large ketches. We were agnostic about rig--schooner or ketch. One boat we looked at, a Watson, had been built as a ketch in
England
, and then converted to a schooner in the USA during the 40's. The owner had both rigs when we saw the boat and was converting back to the original, ketch, rig to be historically accurate. He had not sailed the boat with either rig though.
We were looking for a large vessel (over 50 ft) with enough sail area that the split rig was a natural, for the era of boat we were
shopping
. We did end up with a schooner. If you are involved in schooner races or
events
, they'll split the
classes
into Gaff rigged vs
Bermuda
rig on the main (aft) sail.
That aft-most sail can really twist and if not
Bermuda
rigged, does contribute quite a bit to reduced windward performance -- and thus the races sometimes have different courses for the gaff schooners vs the ones with Bermuda main.
The racers all have their needs for windward performance against one another and set up their races to provide misery for those who don't perform so well to windward.
I know one crew that races a schooner (the Elizabeth Muir) with Bermuda
mainsail
that has been rigged with foresail at different times both ways (as staysail and gaff) and we were chatting with them and learned that, with their crew, she does better with the gaff foresail as it fills the area between the two masts so nicely whereas with the staysail they must fly additional sails (fisherman, golly, et al) in order to achieve the same overall performance. And with flying those extra sails comes the need to handle and manage them tack after tack after tack.
In theory, the staysail foresail certainly does allows for more clean air to the main and thus many schooners with Bermuda main are rigged on the fore as staysail schooners. If one isn't in a harbor
race
short tacking, I imagine the staysail schooner with use of topsails as needed to be very effective.
Windward performance, as others note, has as much to do with
hull
as it does with sail plan. Many bigger, old boats have what is truly a full keel and many of the European ones seem to have a penchant for the designs that have a lot of wetted surface. These larger ketches and schooners of yesteryear often don't do well to windward. Given a particular waterline, deep
draft
boats are better to windward than those which are shallow as well simply because the
draft
helps reduce the leeward slipping. Take a deep drafted boat with a well designed
hull
and it will really out perform the simplest of the old full keel boats. This is where Olin Stephens really shined, btw.
We were prepared for our own boat to have potentially very poor windward performance though her hull shape was much more modern than other schooners of her era. We were thrilled when we learned by sailing her to windward many times that she goes to windward quite nicely (in anything over 10 knots). She is very shallow drafted for her length and leeway does come with that. The
shallow draft
was our biggest concern for windward performance, not the rig. Of course broad reaching is glorious in comparison to beating to windward--but that is true for most boats.
One thing about a schooner is, due to the larger aft sail, they can have
weather
helm
if sails aren't managed properly and there is not typically any problem pointing to weather--the boat wants to point up and go to
weather
she will try to go. There are numerous schooner owners with stories of the
helm
being completely ineffective as the mainsail's power kept the boat pointed to windward.
Pelagic's lovely boat looks to be an equal
mast
height boat--which is technically a schooner but many people will call a ketch these days as ketches are more popular among cruisers than schooners. It also has the masts a bit further aft than most schooners have. Typically a schooner will have the aft
mast
at the widest part of the boat and closer to the fore-and-aft midships as well. Most schooners masts are not right in front of the
cockpit
like that--mizzen masts are in the
cockpit
as Pelagic's boat has. His boat also appears to have Bermuda sails on both masts like a ketch whereas a schooner would more typically have a staysail foresail or a gaff foresail. Really, IMO, that's a ketch placement of masts and choice of sails. And, yes, certainly no clean air at all will make it to the aft mast because the poor thing is not above the foremast at all.
Having said all that, on any given hull, it is true that a
sloop
should be able to do better beating to windward than a split rig of ketch or schooner. So--why have the split rig? If you want smaller sail size, smaller winches, or not to have to have
electric
winches.
I hope this information is useful to someone including the OP.
--Brenda
Our boat is a more traditional mast height and placement for schooners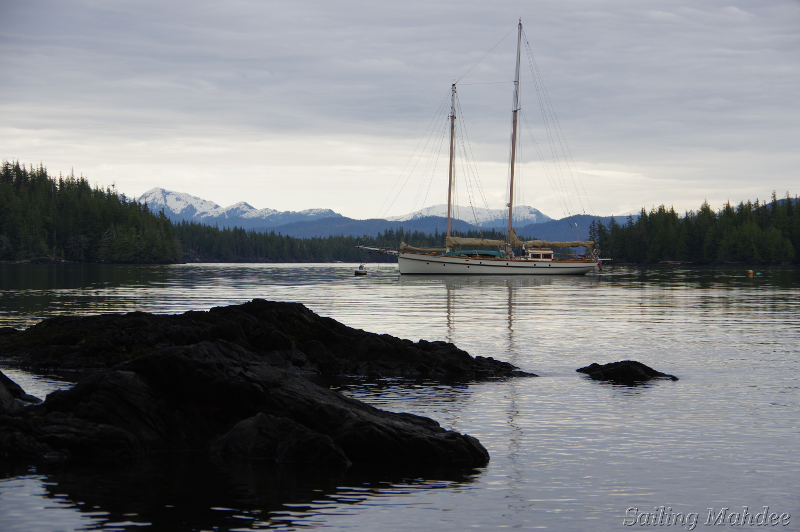 more pics
here