In the latest 'Lectronic Latitude, there is the following account of sailors along that section of the coast who were in a
race
from
San Francisco
to Santa Barbara in a Santana 22:
Never Again in a Boat So Small
June 27 - Alameda
We've covered Encinal YC's Coastal Cup
ad infinitum
(see
Friday
and
Monday's 'Lectronic Latitudes
if you missed the coverage), but we can't pass up just one more item about last week's 277-mile
race
from
San Francisco
to Santa Barbara. File this one under the 'lessons learned' category, courtesy of Michael Andrews, who raced his Santana 22
Bonito
with Kevin Clark and Tom Rankin. Back on
terra firma
on Monday, he sent us the following report:
"We raced
Bonito
hard from the time we started on Thursday morning until 20:30 on Friday night when, about nine miles
offshore
between Points Arguello and Conception, we stopped
racing
and began sailing simply to finish with the boat intact and crew safe. We had broken our
spinnaker
pole in a knockdown earlier in the day, which proved fortuitous in some respects because we weren't tempted to continue trying to carry a kite after. Instead, we put up the class
jib
- a 120% sail - and continued on with it winged-out opposite the main until 20:30, when we found ourselves in a lull and began plain sail reaching. First we headed further out to sea to find more breeze to help us manage with the large seas, and then towards, and part way down, the Santa Barbara Channel. We sailed into the protection of the Santa Barbara mountains at the earliest opportunity and then sailed in the light onshore breeze to the finish.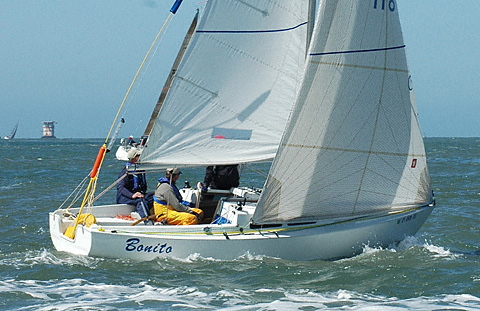 Bonito
just outside of the Golden Gate last Thursday
Photo Latitude / Sutter

© 2007 Latitude 38 Publishing
"I have mixed feelings about our doing well in the race, in terms of placing fifth overall. Though the
wind
was never more than the boat or we were capable of handling, the sea state
offshore
that comes with up to gale force winds is beyond what a 22-ft boat is capable of being sailed safely through. Kevin, Tom and I will never sail down the coast again in a boat so small. All of my friends who told me that it was not a good idea were right. My mixed feelings about doing well stem from my desire to not inspire anyone else to sail a similar sized boat in a race down the coast. Given the opportunity, I will try vigorously to dissuade anyone from doing so."
For the
record
, Andrews, Clark and Rankin aren't sailing slouches. They often sail Clark's Melges 24
Smokin'
and have extensive inshore and coastal experience on a variety of boats. The trio expanded their repetoire beyond sportboats when Andrews purchased his brand new Tuna several years ago. From their first discussion last year about
racing
the Tuna down the coast, they worked hard to prepare the boat and themselves appropriately with an eye on winning the race overall. However, with last week's big
wind
offshore and even bigger seas, it's an understatement to say that the race was more than they bargained for.
- latitude / ss
Again, welcome to the forum.
TaoJones