. . . In a
photo
taken from the bluffs on the Corona del Mar side of the
Newport
Harbor entrance last week, it is obvious that the breakwaters can't always make the entrance into the bay passable. The following is from 'Lectronic Latitude of April 20.
April 20 - Newport Harbor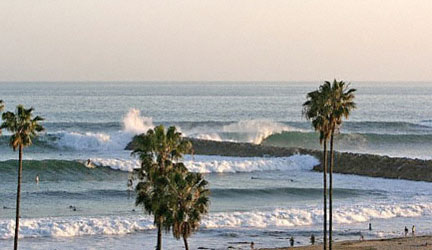 Photo Mark Templin

©2007Latitude38PublishingCo.,Inc. Today's Photo of the Day of the day was taken yesterday by Mark Templin, and demonstrates that although the entrance to Newport Harbor is benign almost all of the time, yesterday would not have been a good day for the Orange Coast College Shields - or any other boats - to use the entrance buoy as a rounding mark. And we can only imagine what the surge must have been like at the transient docks. On the other hand, it was a great day for surfers - until the
wind
later whipped up to 30 knots.
This photo is over the southern/ocean end of the east jetty, so the breakers beyond and to the right of the jetty in the photo are in the entrance itself, between the east and west jetty, which is further right in the photo and out of the frame. It is the area near the end of the longer west jetty, on the outside of the entrance, that the small vessel went on the rocks.
Below is a
Maptech
frame of the Newport Harbor entrance.
TaoJones