For cruisers and living on board the answer could be: Take the
boat
you love and you can afford, be happy with it ! :-)
But so it does not go on "high seas".
First analyse the needs...
I dont mean your own needs, I mean the needs of the
boat
itself to survive. If the boat is built to survive in the conditions you want bring her, then you will have the chance to survive.
Seaworthyness and Safetyness:
If you want sail arctic regions with ice, you need a strong
hull
which can stand - eventually to overwinter in thick pack ice.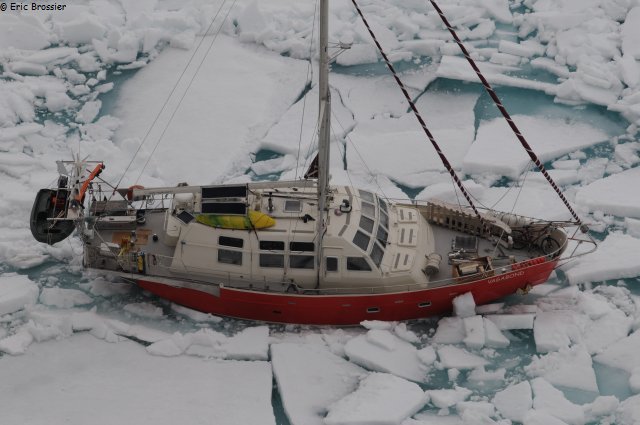 Designers have thought a lot about to draw the best form, e.g. bow forms, decks layout, stern,
rudder
, daggerboards... all has a function. If you cant read a boat seeing all the little details, learn about.. there are plenty of
books
you can read to get a feeling... and visit different boat shows to get a feeling about.
Regions and life style
: If you are in hot tropicals, most of your life will be on
deck
... and you need there lots of space to feel the fresh breath. Wooden boats rotten very quickly in such tropical regions and suffer if the owner has not enough
budget
to care for intensively
Capacity and skills of crew:
If you are
single
hand sailor, you need a very centred
cockpit
with lots of winches to handle every manoever safely...
The other aspect is distance ! - More
independency
for sailing long distances from from A to B without an external supplier infrastructure, more you need on board. And more space you need. E.g. bigger
water
and
diesel
tank capacities...
Last part of the complexe matrix are your
skills as skipper and the skills of your crew
. Do you sail short handed (single- or double handed) ? Do you have a big
family
on board with little kidds ? Do you use the boat in
charter
with sailing newbees ? - A complexe rig can make life on board very demanding... so the
rigging
shall be adapted to the needs in the relevant sea areas, e.g.
ketch
rigged boat, self tagging
jib
,
furling
systems etc. ...

Accmodation:
A boat does not give lots of privacy... if you have under
deck
all open and people must sleep in it can become stress. But same not all like the luxury of land living. E.g. having a double
cabin
with own
shower
and king size
bed
. It depends who you are, what you expect and what kid of people you like to have on board. Socialising is an important aspect for humans.
Handcraftshipmen:
Some boats are equipped with workshops, too. Thats the last part: what are your handcraft skils ? Some sailors have a sail loft on board with a sewing mashine to repair independently from ordering a sail maker to repair the
sails
... others can do welding
Steel
or Aluminium... some sailors are great in wood work.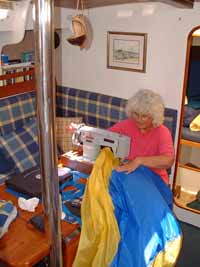 So the boat building material should fit your own skills and preferences. Not all like

epoxy

glueing handling toxic chemicals. Its up to you !

This is the bigger matrix I was taking about... put all facts on the table.... then you will get an understanding your search should focus onto. All the filters as described, will filter out the boat you need. It comes from alone popping up as soon the

fog

has disappeared.

Boats are not objects of mystery. Just a big puzzle of many different parameters...
Hull shape (keel, bow, stern, rudder), Rig system + sail plan, Boat material, Seaworthyness of the boat (inclusive safetyness equipment following the IMO/SOLAS standard9 and handling + skills.

Ever other aspects to equip a boat, e.g.

electronics

and electrics follow from the basic matrix... You still could navigate with a

Sextant

, and steer manually. Not urgently needed a Chart plotter or an

autopilot

. You can haul your

sails

and

anchor

manually, not urgently needed

electric

winches. It depends lot on your

phsyical fitness/healthyness, budget and skills

.

Invest your

money

first in the basic structure of the boat.. all the goodies, e.g. hot

water

system/shower,

watermaker

,

autopilot

, chart plotter etc. ... come later in 2nd row. All these extras make lots of work. More you have on board, more needs steadily

repairs

(and money).

Actually under

security aspects

a boat should be equipped to make it more safely with

some modern tool

s, e.g. having

GPS

,

VHF

with

AIS

,

Radar

,

EPIRB

,

Liferaft

and life jackets with life belts, water pump systems (bilge pumps). Nowadays i see a

solar

system as part of the

safety

system , too.

Traditionally safety equipmen

t, e.g. anchors, storm sails, hand pumps I dont like to talk about. It belongs to good seamanship and every boat has to have it.

In total, there come many, many parameters into count to answer your question. If this big matrix is too complexe for you, take a naval architect and

surveyor

aside to find the boat you need.

Good luck !

P.S.: I was professional

skipper

. For a skipper before he overtakes the job, being ordered by

charter

agencies, for deliveries, for sail training in a sail academy etc. ... it is a normal procedure to scan the boat he shall overtake the resonsability. Some of the charter agents and private owners do not have the knowledge to understand boats fully. I never would overtake a

contract

to skipper a boat I would not count as safe lacking to fulfill all the needs. Here comes into account same the qualification of charter guests, the seasonal

weather

conditions of the sea area, technical infrastructure in the country (e.g. suppliers in the

marinas

, harbours) etc. ....

Your question is not only interesting for boat owners, it is same interesting for skippers. A steadily training is required, as over the decades we get new boat designs. Its important to understand their weaknesses and strength.

__________________