Let's get the bad news across straightaway. After labouring for two weeks,
sanding
and filling until
Banyandah's
topsides were slick like newborn skin, we mixed our 2 pack Poly-U, diluted it with retarder thinners, and with great expectations, me rolling it on, Jude shoulder to shoulder tipping it off - well, the transom came out looking bloody awful! The stuff just wouldn't flow. Brush marks froze as they left Jude's deft touch.
The flat transom was our trial, and after the disastrous results, we stopped right there thinking we'd look at it again in the bright light of a new day, and went off to the marina's
Christmas
Party.
Next morning it looked just as bad. Scratching my noodle, I made the decision to abandon using the cantankerous Jotun 2 pack AS Hardtop, and instead, buy four litres of enamel
paint
, which we know we can brush smooth. But that would have to wait until after
Christmas
.
The Good
Disappointed, Jude turned to giving Little Red a new red coat, and although not at my best with a pickled brain from partying, I set to installing our new 42′ long machined sail track. With great trepidation, expecting a major stuff up considering our run of luck, I set up the video
camera
then proceeded to offer up the metre wide roll of expensive UHMW plastic that had been especially machined for us by
TIDES
in America. Well, blow me down with a feather, it all went so magically that I came alive with good cheer. Yep, up she went smoothly, aided by a few squirts of dilute detergent. You beauty! Our new
mainsail
now has a home. We're a going machine once again.
The Lovely

In the sunshine before the mountain, all is calm as the silver and gold morning creeps up from Risdon Cove, the site of the first British settlement in Van Diemen's Land, and given that name in 1794 by John Hayes to honour his second officer, William Risdon, when they were mapping the Derwent in the
Duke of Clarence
.
On this last morning at Barry and Wendy's, away and behind our camp only a hint of mankind is heard within the whispers coming down the brooding mountain with its rocky cap deep in shadow. Its flutes not
lost
, but hiding some of their grandeur as they await the next burst of sunlight that have been striking almost without notice from behind fleeing clouds.
Another Christmas has come and gone, the
Sydney
Hobart fleet has sped out the Harbour and at this early hour they could be halfway to us at Hobart. That's OK for today Jack and Jude must also leave one paradise and
head
home to
Banyandah,
another paradise with unfinished work.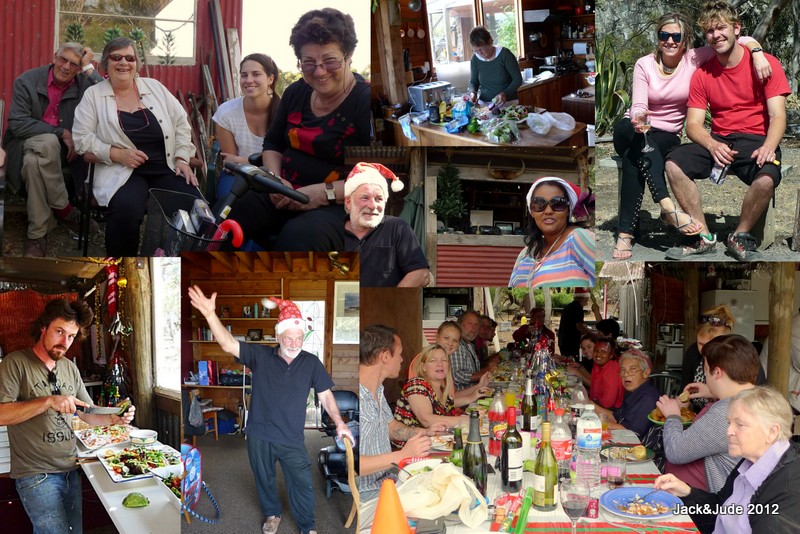 These last three days have flown with so much delight. Each day different yet holding the same precious thread of contact with
family
members, especially the two young adults on the cusp of life. They will share today's journey home with us so we may show them the grand lady that has made so many of our dreams come true. Their curiosity has inspired Jude and I into spinning stories of our struggles and conquests, igniting their young minds, and I confess to shedding a few tears on two occasions when recalling poignant moments that turned me into a softy.
Barry and Wendy's place is something very special. So intensely surrounded by dramatic nature, and yet just over the rim, a capital city spreads to a seascape promising adventure and commerce. Boxing Day's fine
weather
sent Jude and I walkabout up and around the cavernous quarry that created the extraordinary landform upon which Barry built his house. As a young lad growing up just one street below the quarry, Barry made them an offer for the land holding the mine's overburden. And in the late 1970s, when the bluestone quarry finally finished building Hobart's roads, Barry secured his dream bit of land.
That was decades ago. Today the suburbs brush along one side, but the property's exposure is pure nirvana. Magical green forests reach for the summit where the Organ Pipes stand proud next to where other mountains stretch north towards a gigantic silver medallion with a jagged tongue named the Derwent. In a park like atmosphere full of open spaces, distant clouds and mountains become a changing billboard as the sun plays hide and seek. Here a conservatoire would find inspiration and peace in an area crisscrossed with walking trails that lead to nearby Mount Lofty, or far away to the peak of majestic Mount Wellington, adorned with two surreal spaceship objects that smack of man and perhaps spoil her lovely natural shape.
The Organ Pipes atop Mount Wellington overlooking Hobart

Needing a break from
sanding
and priming, this holiday on the plateau has proven a straight path to heaven. In between our walks and socials, Jude sketched the mountains and gum trees, while Jack lay horizontally polarized listening to 'jock witty' sing his repetitious greeting. But now, holidays over, it's back to work.