I know all boat owner's hope to prepare their best for tropical storms, but for us and many liveaboards, we're protecting all we have in one unit. When we prepared for Irene we continued, like fourteen previous tropical storms, to get ready for the worst. Most of our hard work is putting everything below. So here's the game! Can you find all the differences between these two photos? The first is prepped for Irene and the second is after returning the boat to normal.......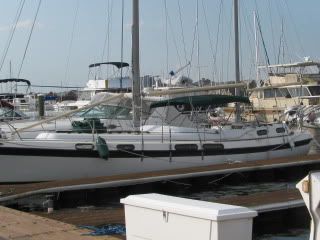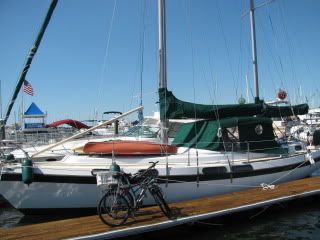 The amount that fits in our aft
cabin
amazes us.
Roller-furling
genoa
, main sail, mizzen sail, two full size bicycles, two kayaks,
dinghy
oars-airpump-anchor, two bags of 3 PFDs each, man-overboard life sling, eight
bimini
side
panels
w/two covers,
GPS
mount, two 12" diameter glass net floats, five
cockpit
cushions
,
cockpit
rugs and pillows, boat hooks, pole net, and two buckets......and enough room remaining to access the
bilge
and
bilge pump
. Of our fourteen tropical storm preps while
living aboard
eleven were around fifty mph winds or less for us, like Irene. Two were barely catergory ones with gusts to about eighty and one was a category three. I realize that the winds reach a point, that my judgement seems to be around eighty mph, when anyone aboard is unable to function on
deck
to perform activities to aide the vessel. I hope I can be wise enough to be ashore at those times. I know some have been discouraged with the intensity forcasts and feel that this amount of preparation is not worthwhile, but we will continue to "overprepare" and seek the best locations well before the storm's arrival. We did hold back with removing the
bimini
top, but that was an easy
removal
had it become necessary.