Yur right Alan!
Now that I've given it some thought and with the responses, 45º/90º included is beginning to sound like the max I would want to give her.
When I first got the vessel, I remember backing out of a slip, when I
lost
my balance looking around. That tiller pinned me to the rail. The extreme angle I gave it was a little too much for me to handle. Fortunately the tiller lifts up and I was able to slide under and pull it back. But I was a little red in the face until I was out of sight of the
dock
.
Sooooo, backing with too much angle could be a little too much for a pump to overcome without going over-kill.
As for space in my
steering
room, I have enough to put a couple of kid's bunks. I'd like to use it for
storage
but the need to have full access has its priorities. It seems I'm always crawling back in there to do some
wiring
or
plumbing
.
The pump does come with the lock valve already installed. And I do plan on keeping the tiller for a back up. I work with hydraulics almost on a daily basis and it is very dependable if set up properly.
And for the seat, I'm already sitting on the windward
deck
while she's a list. She has a shallow
cockpit
. The plan is to build up under the winches a sea wall to help keep it from a wash and mount the winches on top. Then I may put in an oriental bridge looking seat across the aft cockpit. And I'll be moving the gages and controls up to the
pedestal
.
I think I'll give it a few more days and responses then decide, but 35º is sounding more desirable.
I thank y'all for the help!
Example #1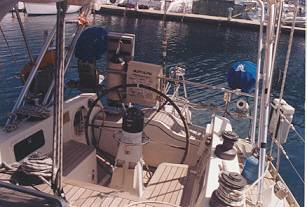 Example #2