Quote:
Originally Posted by
Psc242
Hi there
Did any of you find the dimension of this Bracket?
Jacob
Well here's a picture of the bracket, which is kind of irrelevant
if you were to use a solenoid like this: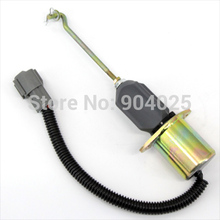 available here:
http://www.aliexpress.com/w/wholesale-stop-solenoid.html
for about 45.00 usd delivered, because you have the engine (i.e. the engine mount dimension) and the solenoid mount dimension would come from the solenoid itself.
I don't mean to say that the above mentioned solenoid will absolutely work; whether it is push or pull to stop, voltage, stroke and strength of stroke are all to be considered.
I assume you're trying to get around Yanmar's roughly 350.00 (500.00 if you add the harnesses and relay) cost for the bracket, solenoid and associated
hardware
. I'm just showing that there are options...
The real root of my post here is actually a recent post from a sailor who damaged his engine from a lack of a shutdown or
alarm
, my point is that with the widespread availability of these components and ease of obtaining them, there's no real reason for these 'accidents' to happen. A 10.00 pressure switch, a 10.00 temp switch, a 50.00 solenoid, some
wiring
, a little basic engineering and labor and one's protected.
Of course; full disclosure, my shutdown system is a manual cable, my
alarm
system is an
oil
pressure and
water
temperature gauge, and of course my eyes, ears, nose and skin...