Yes, change the elbow to bronze or stainless. My local
hardware
store has both. The elbow may be required to avoid excessive contortions in the hose. In your second picture it looks like you have a nice gentle curve from the through
hull
to the pump inlet.
The hose is size OK, It's better to have it a little oversize to supply a good flow to the pump. Wire reinforced hose is not an absolute requirement, just don't use
cheap
heater hose or something like that.
Make sure you have all stainless clamps, check it with a magnet.
A lot of people like to run a sea strainer, to keep trash out of the
heat exchanger
or block, something like this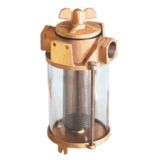 but it does add complexity and cost. The one shown is about 120.00 for a 1/2" NPT model.
When you get that zinc fitting loose and change and reinstall it. don't tighten it like a wild man. Tight enough to not leak is tight enough.
I'm jealous of your engines
paint
job...