I am working on a design for a 35-40 foot
catamaran
that I term a picnic/weekender
catamaran
. The
concept
will be somewhat similar to this one I found in
Thailand
a few years ago. I posted it on several
boating
forums
a few years ago.
Weekender/Picnic PowerCat - General Catamaran Discussion | YachtForums: We Know Big Boats!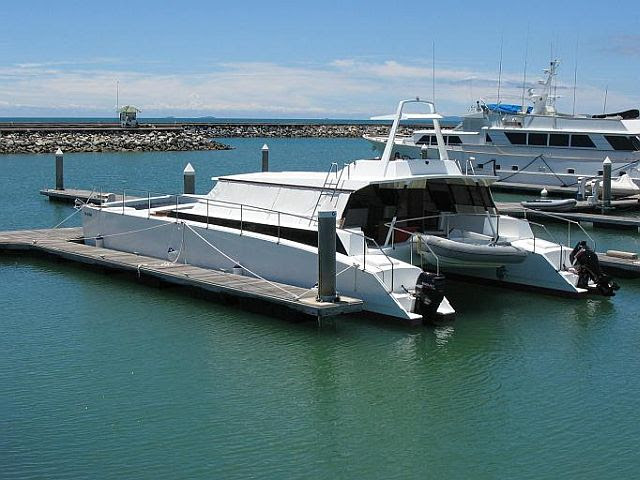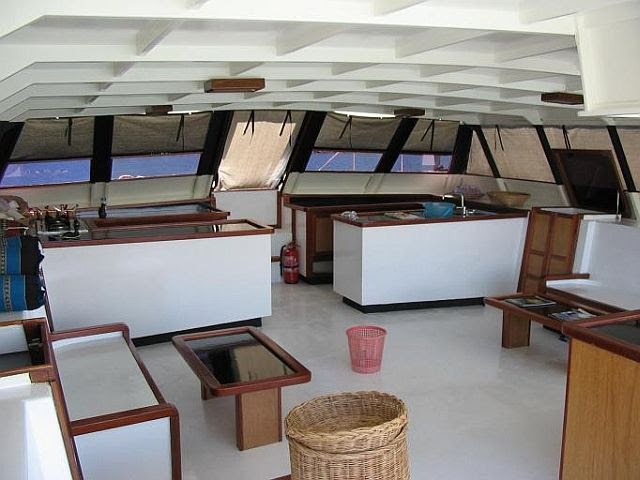 This particular catamaran was a powercat. I will be adding a sailing rig to it. I will also adding a trolling/fishing chair area to rear
deck
area,... so that pictured
Zodiac
dinghy
will be relocated, and the two
outboard
engines need to be eliminated.
I need to
repower
this cat design, both for close quarters
docking
situations, and for some motor/sailing situations.
I have had a very long time interest in the rim-drive propulsion
concept
.
Rim Driven Propellers - Technical Discussion | YachtForums: We Know Big Boats!
What I have in mind at this moment is how I might adapt this
to be my
single
primary propulsion
propeller
. I would like to mount it in the aft portion of a of the wingdeck of the vessel, and make it steerable upon demand, and also retractable when sailing. Naturally it requires an
electrical
supply, which as I understand it under present technology can come from a combination of
battery
power and a relatively small DE power plant. This power plant would be located in its own insulated (heat and sound) box up on the flat
deck
of the catamaran.
So here are a list of questions I have at the moment:
1) Can such a rim-drive propulsor be run continuous without
overheating
? It is my understanding that the Vetus unit can do that now.
2) Whether it is the Vetus rim-drive, or another electric drive motor, is it possible to operate such a 'DE system' with very little battery supplements?
3) How few batteries are required (in the interest to keep added weight down) ?
4) Is it possible to 'direct drive' this 'electric prop' with the DE power plant, or are batteries required.
5) I realize Vetus has its own DE power plant, but it appears that FisherPanda has an even greater selection of small DE power plants. Can these systems be mixed?
7) Should the Vetus rimdrive prove not powerful enough, what are the other alternatives that anyone would suggest??
As an example of why I might be considering this approach, I will offer this personal experience of mine. I was the original importer to the USA of French catamaran line,... the original model was a 37 foot boat called the Louisiane 37. I placed a 9,9 hp Yamaha
4 stroke
Hi-Thrust
outboard
engine on it. It was a limited production outboard they made with an extra gear reduction in the output prop shaft so it could turn a bigger propeller. It worked pretty good as we got 7 knots out of the vessel in calm conditions. The engine was mounted in the center on a rear beam of the vessel, and soft lines were lead from the engine to the
rudder
arms so when
docking
the engine would steer along with the rudders. Maneuverability was VERY good. It made me a believer in 'steerable engine', verses twins,...an alternative to consider.
__________________