wowh... awesome cool stuff here in this thread. :-)
I just may re-post here my comment I leaved in the world of monohulls where the statement is cursing the statement "Ketch has no future -
Ketch
is dead" by the question "
The Death of Ketch?
"...
So here my personal opinion about... naturally by my interests I like to keep focus for the future more on the question:
What about Ketch Rigs on Trimarans ?
:-)
-----------------------------
Clearly I can say: Its a total nonsense to assume, that "ketch rigged boats" are out of fasion. Why should they ??? Only because there are some other trends... Good things never will be forgotten, so fare they are shared as experience from generation to generation and overhanded to younger sailors.
Yes, we see some of these mega yachts, highly rigged sloops... because of carbon masts and canting keels,
water
ballast and trimming tools to avoid heavily heeling. And we don't see anymore ketches on the
regatta
fields.
Do some remember the mega racers of Whitbread ? Monsters of the sea... and all ketches. Nowadays we would call them Dinos.
Remember Swiss-French
skipper
legend Pierre Fehlman's80 Foot maxi
MERIT
built in 1988 (
Rec: You can buy this boat now. Its for sale at 160 Thousand Euros waiting in Spain for you
)
This image has been resized. Click this bar to view the full image. The original image is sized %1%2.
... or the legendary
maxi
ketch
Steinlager II
skippered by Sir Peter Blake. This
boat
was winner of the 1989/1990 Whitbread (nowadays better known as
Volvo
Ocean Race)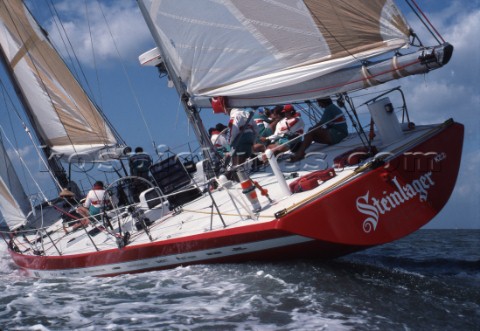 This image has been resized. Click this bar to view the full image. The original image is sized %1%2.
Impressive boats of their times... as you can see in this short vid on board of Ketch MERIT.
I dont like to become sentimental and look back. We live in 2015 end of sailing season in North
Europe
... so what will be the future ?
Racing
meanwhile became a business, clearly to say... being dominated by media coverage and multi-million budgets of global brands their
Marketing
CEOS demand a payback/revenue for "brand building". The standards here are differently from "normal sailors".
I have the trust, that there is still the market for cruisers... where Ketches have their places, no doubt about.
Thats the relevant point we have to talk about: the technical aspect why ketches never will die (and never should die). So long qualified sailors exist out there, and not fashion-kind spoilt sailors with lots of
money
to built their hightech man's toys in black non-recycable carbon... so long ketches can live on.
1st:
sailing for most people is something "irrational". Same as some like climbing and hanging in the rocks, others need to stay on the
water
. Why we like to stay on
salt water
, a very aggressive and deadly
environment
for any human, regularly. Why does one like to sail a schooner, another a Yawl, another an A-Mast ? Different tastes, individual preferences of "well feeling".
2nd:
boats and boat designs, and the beautyness of boats do not only attract sailors. Look at the big harbour festivals and you will understand what I am talking about. In my home town, Hanseatic City Hamburg we have annually every 1st weekend on May the annually Harbour birthday festival.... with more than 1 million visitors.
The maritime world still evokes in people - maybe already fixed in their genes by our anchestors having been nomads - the desire for travelling into the unknown, into fare distances. More masts on a boat, the bigger the desirefully dreams by the spectators. Right ? :-) As said, very irrational somehow.
Ketch rigged boats have a very special attraction, by their look. The main
mast
is little bit lower compared to sloops, the jagger or spanker
mast
some feet lower than the main mast demonstrates a beautiful picture of harmony and balance. In combination with
cutter
rigged headsails (Jib,
Genoa
, Spinnaker/Genaker) they look gorgeous.
I sailed one as professional
skipper
for a private boat owner, an Italian beauty of wood, which was built in the late 70th... even with wooden masts... she was not just a beauty, she was fast, too. Very fast.
The SY Tamoure had 22 meters length (plus bow sprit), only 4.9 m width with 220 m2
sails
in total and a
displacement
of 25 tons (long keel), with 4 cabins and 11 berth... a very fast boat easily sailed 12-13 knots.
(
Rec.:
The rig of this boat was little bit demanding as the main + spanker mast both had backstages. Needed lots of care for the slim wooden mast profiles.)
I sailed other Ketches, too... e.g. 58 Footer Ted
irwin
(only have a foto of a 52 footer)...
This image has been resized. Click this bar to view the full image. The original image is sized %1%2.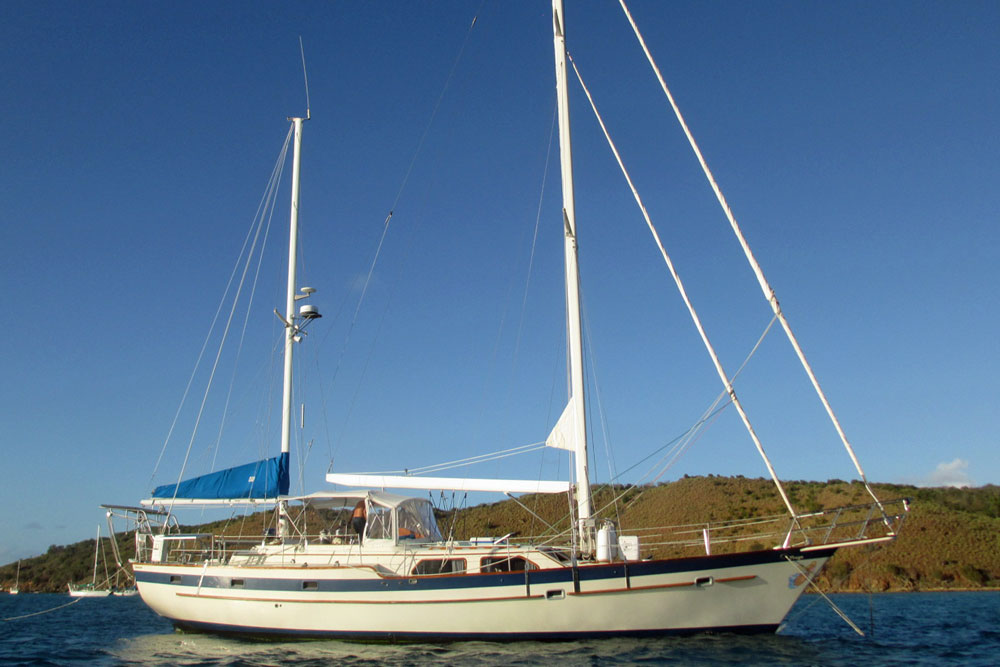 ... and sailed Schooner rigs, Marstal galeass and traditional
cutter
sloops too. So I suppose I have a broad range of different boat types in mind.
3rd:
Not just by the look Ketches I like most as they are beauties on their own, same the sail plan is very practically to handle. It is more easy going, even for a less experienced crew, so far in good hands of an experienced
skipper
to keep control over the different manovers giving enough time.
In heavy storm sailing windward with a smaller cutter
jib
, one reef in the spanker and two
reefs
in the main sail, such a boat is sailing very balanced with very low heeling. But has the pull + push power to go through the waves straight forward not bouncing too heavily.
The trimming demands little bit more "care", but I like to trim a boat sailing fast... thats why I love ketches. Its a pleasure for me. Sometimes wondering about the lazyness of cruising crews not caring for excellent trim loosing lots of potentials their boats have.
4th:
Another aspect is saftyness in case of dis-masting. Better having a spanker mast in reserves you can keep going on the ocean far away from coast.
I see it like this:
It is up to us, what we like to see on the
water
... its not just that boat designers can put something new front our eyes we see during boat shows. And we have to buy it,
charter
it, sail it.
If we like to sail ketches of different reasons, its up to us to demand them, e.g. from
charter
agencies, from warfts, sail makers, mast builders etc. ...
Last as I am little bit heavily addicted (in my new era of sailing life) to focus onto Trimarans. Here two beautiful Ketches on three hulls rarely seen:
Crhis White 52 foot Design:
Trimaran Juniter
(with modern Rotation Wing masts)
This image has been resized. Click this bar to view the full image. The original image is sized %1%2.
This image has been resized. Click this bar to view the full image. The original image is sized %1%2.
46 Foot Piver Trimaran Trident
(built 1982 and
for sales at 40 Thousand US dollars
in California)...
This image has been resized. Click this bar to view the full image. The original image is sized %1%2.
Smaller

Cross Norman Trimaran

of

36 foots

as Ketch... very charming vid

P.S::

Hopefully my "bad English" isnt to bad... I am not a native ENG speaker. :-) )

__________________