One question runs steadily through my mind, reading comments from side of cruising
catamaran
sailors... watching videos etc. ...
How to sozialize on board of a Trimaran ?
This will become a thread which gives attention to very personal perspectives and views... probably there is no right or wrong about the life style on board of tiny or bigger boats. Therefore I think, its OK to start it newly as it takes into view my personal perspective, targets, motivation behind... having not checked, if this topic already was discussed intensively.
Shortly about my personal background...

I love sailing (since the 70th)... collected my experiences on many different boats, which naturally belonged to the category "monohull". I never owned a
boat
, but I skippered for private owners,
charter
agencies, sailing schools. I did deliveries/transfers, sail training, leisure and cruising sailing, incentives... and I worked as helmsman on tallships (35-40 meters) with bigger sailing crews. Not to forget, maintaining boats for owners while they stayed winterized waiting for the next season to go back into the
water
.
Actually I got infected by multihulls when skippering a 15 meter cruising
Catamaran
for a private owner (hotel owner) and seeing the speed >20 knots.
So I have decided to start a living (again) on a
Trimaran
, more I can combine living + working on board (mainly brain work using
computers
+ file server + Internet) of a 3-hull
boat
, with small crew (single or two handed).
Different reasons behind why I have decided for a Tri:
I love speed, sportive sailing and steadily trimming a boat to its maximum... and by profession (working) I need to come quickly from A to B.
Tris attract me by their design and elegance heavily which is a very relevant point. I never could stay on a boat I would see as "ugly". Here everybody has his/her own esthetics.
Multihulls are a very intelligent way of sailing (low depth/displacement) and very safe. Trimarans have a lower risk of capsizing (nose diving) than catamarans (related to the weight of displacement).
it has lots of space on deck to move around safely
With uplifted daggerboards and rudder a tri even can easily do beaching which makes life on board more comfortable
I like challenges and I am already used to live a very minimalized life on land for more than 15 years (no big consuming) so it wont affect me to keep it very simple on the boat (as I belong to the sailor generation we had nothing on board, just some charts, logging without GPS/Chart plotting, Apps).
I dont need lots of space under deck personally (no washing mashine needed)... luckily the brain food (e.g. Books, music) I need to feel well can be stored miniaturized as files on shock mounted flash disks on a file server with access by wifi devices.
Narrow spaced boats can be equipped more easily nowadays to agitate independently from external infrastructure, e.g. installing water maker (to avoid big tanks), solar and wind energy to feed all the little helpers (e.g. electronic devices), Biolet composting toilets (to avoid big black water tanks and heavy ballast)... which makes it more safe and comfortable not missing a minimum standard of leasure feeling in the modernity of 21st century.
I never would buy a new boat as it is "throwing
money
out of the window" loosing on first day of
ownership
at least 40% of the sales prize. A used one has some risks, but I calculate them as low and easy to be handled... as the boat market is down. Selling again a
used boat
after some few years (e.g. to expand to a bigger one or even to reduce to smaller size) isnt that of a big financial loss.
We sailors like to realize our dreams we look for the adequate vehicle... no way around that. A boat has to be tailor made similar we wear clothes so we feel well on board, going hand in hand with the daily (sailing) work a boat demands.
The land based living doesnt recharge my own batteries... I have tried it, but it doesnt work.
So I am looking around since months and actually got the option to buy a 40 Foot sportive Cruising
Trimaran
(with regularly 4 berth + 2 in reserves in the saloon) with stand hight (headroom: 1.95 m), fully
galley
(2 flame stoven), Toilette/Deck
shower
,
autopilot
,
solar
... at a cruising speed of 14 knots (and max. speed 23-24 knots). If you want see the boat in action, here a
short vid
.
Such kind of boats like uniquely Trimarans get their attention by people.... we all have experienced it, so far we have sailed on extra ordinary boats of beautyness that people come along in the harbour/port of stay, take a look at it and ask to come on board for taking a look under
deck
.
And we boaters need each other to learn from each other, to find solutions (technically, logistically, legally, financially) which let us experience a good time on a boat it is very natural to have small talk from boat to boat.... and hang around in the community of
multihull
sailors.
Boats can be like a magnet... one easily gets in contact with new people at new destinations. I always experienced it like that, and I liked it as I can be a communicative/talktive person (but same can stay for days alone)...
... and knowing that I can be independently whenever I want leave the crowds and noisy land life to take course onto high seas and spot to more lonley places.
A boat has its own effect onto people, the crew, its
skipper
and (day) guests. It demands by its structure and design to adapt to the given
environment
on
deck
(layout) and under deck (floor plan)... same as we feel it to drive a car. Some are good for transporting heavy goods, but slow... others are cosy and comfortable, others are of sportivenessy and need lots of attention having some hundreds of hourse powers under the
hood
.
Smilarly with boats.... some are purists one focusses on sailing day and night long distances non stop, other invite for long night talks under star sky in the
cockpit
on anchor/mooring or hanging in the
saloon
with a delicious meal having cooked, singing shanties and good wine. Or even making noisy boat partying...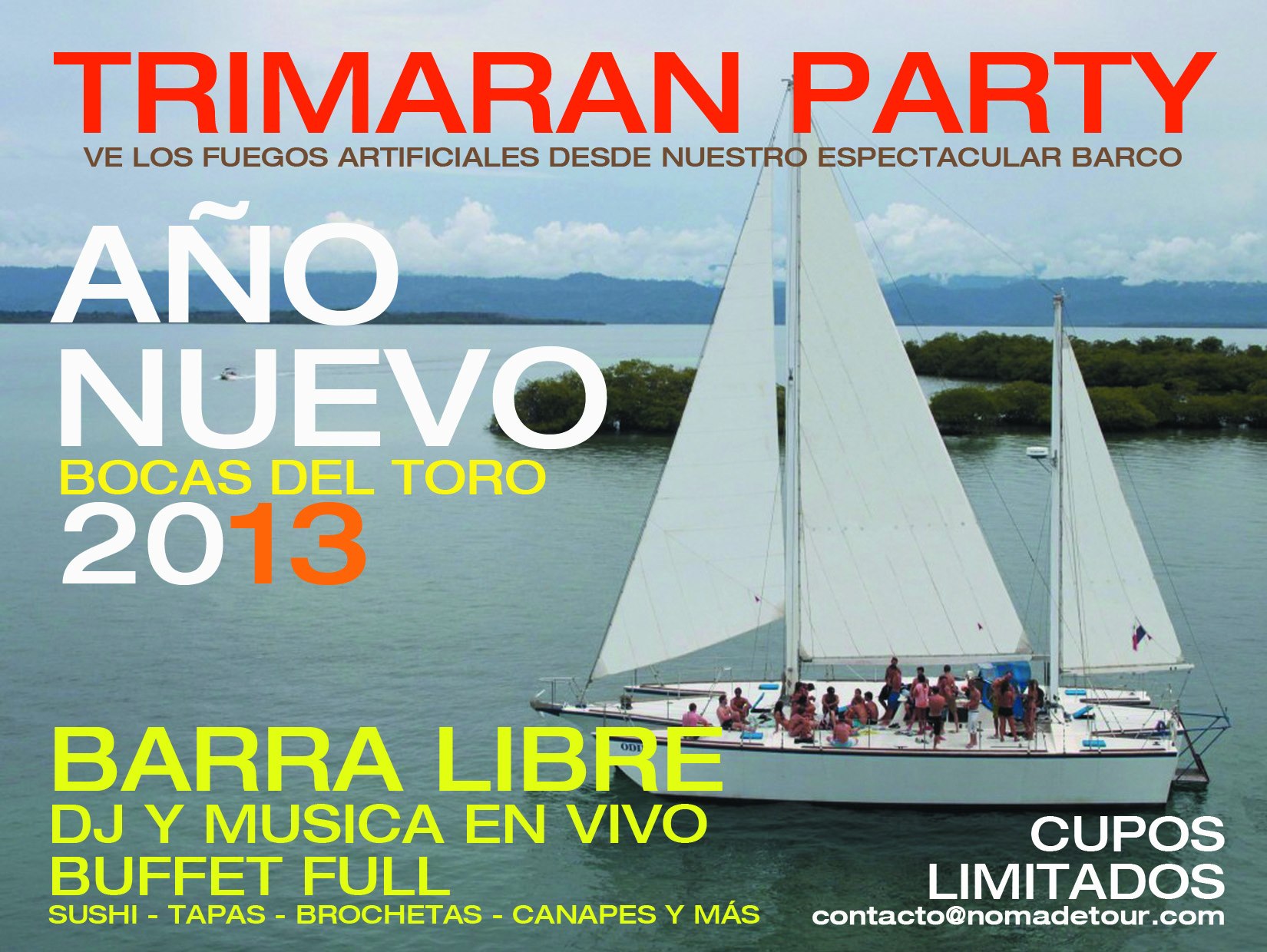 So the upper addressed question is relevant for me in the status of own planning and proofing I am now, beside many other aspects...
Can a fast 40 foot Cruising Trimaran, with small cockpit
(at the size of a 30 Foot
monohull
and compared to those areas of big Cruising catamarans)
and a narrow main hull
(max. 3 meter width),
with 130 m2 on deck
(inclusive trampolines)
invite visitors to feel well as guests, either on deck or under deck ?

Having guests on board is important... in my understanding. We humans (most of us) are social beings. Some only need a cat or a dog on board,
... but most of us need other humans around for talking, sharing etc... . Can a sportive Trimaran fulfill the needs of land based living guests as some keep it going radically on cruising catamarans ?

(

Rec.:

This kind of luxury life style would not be my thing to feel good with... too young for it. Maybe in 10-15 years ;-) )

I appreciate your feedback, opinions, experiences and thank you for taking notice in advance.

Happy & Safe Sailing ! - Skip JR

lyrics

)

__________________