Does anyone know the what has happened to the
boat
Dennis Wilson Drummer from the Beach Boys owned, I have heard a rumour it might be
for sale
?
A little
History
: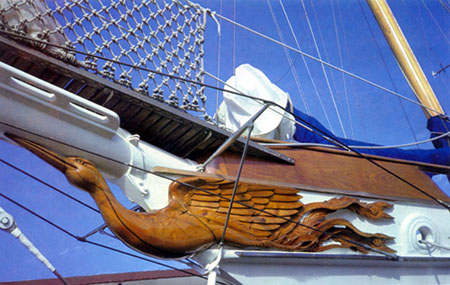 The
Harmony
was built in
Japan
in 1950 by the Azuma
Boat
Company for George T. Folster, a New Englander whose ancestors had sailed the Pacific in the days of the great whaling ships, The craft was christened Watadori (
Bird of Passage
), and the theme set by the original name was reflected in the carving of a bird under the
bowsprit
, as well as in the hand-carved designs in the cabinetwork below decks. Starting from blueprints drawn up by an American yachtsman, the craft was built from materials from all over the world: the wood includes
teak
from Burma, mahogany from the
Philippines
, and camphor wood from
Formosa
; the
sails
were imported from
England
; and the brass fittings were made in
Scotland
.
The Harmony, with Marconi
rigging
, was not built for
racing
, but she is a fleet ship nonetheless. She was the first yacht ever to make a nonstop
passage
under
canvas
from
Japan
, a feat that was accomplished during a perilous forty-seven-day voyage, across five thousand miles of open sea, in the summer of 1952. On the voyage, she covered an average of a hundred miles a day; her best run was 158 miles for one day. Although the vessel has now put such long voyages behind her, previous owners have taken her on extensive cruises, and Wilson has sailed her to
Catalina
, northern
California
, and the
Baja
peninsula of
Mexico
.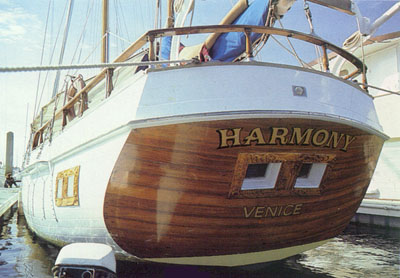 Thanks,

Glenn

Hope this is the right place for

posting

.

__________________