::laugh:: Imagine2Frolic: you had both I and my partner chuckling out loud! Except that it was *me* who ended up with my
head
in the hanging locker across.
The
boat
I've been doodling on is
Ted Brewer's Jason
, a 34'6"
hull
.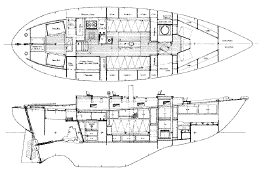 Actually, a big part of my dislike for vee-berths is, for us, they've always ended up being
storage
space and otherwise useless. Where we've sailed a
boat
big enough to have one, usually about 36', the forward
head
is always cramped, and then there's some obscenely wide berth tapering to a foot-war point that requires a step ladder to get into, is too short to sit upright in and is unusable except at
anchor
. After a night or two, we end up sleeping anywhere but in the vee.
Right now I have a
Cape Dory
25D, with the forepeak given over to a largish head and a
saloon
with two full-length berths, as well as a quarterberth. In heavy
weather
upwind there is a bit of free fall, but no wet tail so far; perhaps it's due to having only an 18.5' waterline. If I had pressure
water
the head has a
teak
grate sole and a sump, so I could rig the compartment as a
shower
. But I don't have either pressure or hot
water
, so in port I hang a
solar
shower
from the
jib
halyard
and through the forehatch, although without the sump rigged with a pump it just drains into the
bilge
.