From the latest 'Lectronic Latitude, comes word of special recognition given Harry Heckel by the Slocum Society.
Slocum Society Honors Harry
July 2 -
Newport
News, VA
World cruisers tend to meet a lot of interesting characters 'out there', but one who stands out in the minds of many is singlehander Harry Heckel. Not only is he a warm and friendly fellow with a rosy attitude toward life, but he completed two solo circumnavigations aboard his Dreadnaught 32
Idle Queen
- crossing his tracks the second time at age 87.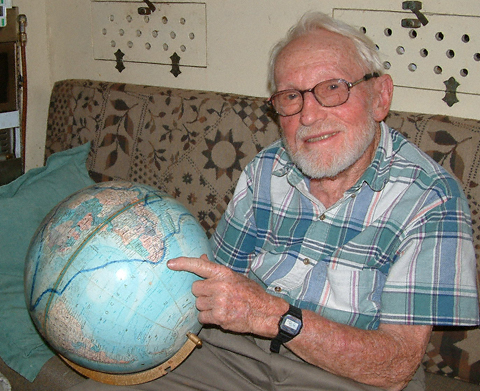 Harry traces his
route
prior to completing his second lap.
Photo Latitude / Andy

© 2007 Latitude 38 Publishing, Inc.
Although Harry thus became the oldest person ever to complete a solo lap around the planet, the Guinness Book of World Records opted not to enter his feat, reasoning that they did not want to encourage such behavior! The folks at the Joshua Slocum Society, however, take a different stance. They honored Harry, now 91, in a special ceremony last week, where Harry was presented with the prestigious Golden Circle
Award
.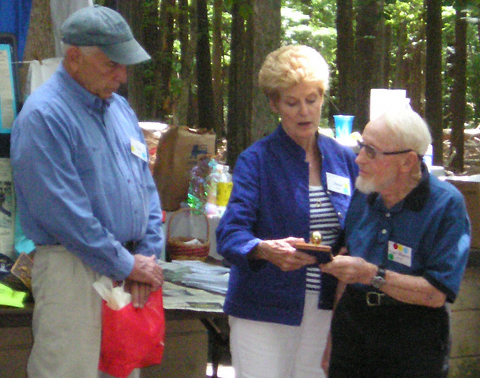 Ted and June Jones of the Slocum Society present Harry with the Golden Circle

Award

at a surprise ceremony in his honor.

© 2007 Carl Heckel

"There are few (if any) in my opinion, who are more deserving," said circumnavigator Kirk McGeorge, now of the St. Thomas, USVI-based

Gallivanter,

who flew up from the islands with his wife Cathy to attend. "The last time Cath and I saw Harry was when he handed me our last

dock

line in Borneo, seven years ago." Past contributors to

Latitude 38,

the McGeorges presented an additional award from the magazine proclaiming Harry the "Grandaddy of Circumnavigators."

Sailor Bryan O'Neill sent comments from

Australia

: "You remain constant in my mind as a true adventurer who has achieved so much to the admiration of so many . . . You amaze me and I am enormously proud of you, and often talk of you as an example of someone achieving the seemingly impossible."

Although Harry's

bluewater

sailing career has been shelved, he still plans to sail occasionally in East Coast waters with

family

members and friends.

- latitude / at

TaoJones

__________________