Jon,
As I wrote earlier, you'll need to keep an eye on "tropical" weather..
Quote:
Originally Posted by
ka4wja
FYI, July can be a month with some "tropical" development which can pop up rather quickly (unlike the
Cape Verde
storms, these can form fairly close-to-home), so keep an eye out for any tropical developments before your departure as well as during your
passage
..
And, I'd like to expand on that a bit....as there are some unnecessary "alarmist" attitudes out there...
And with myself having grown-up in Florida and cruising the Bahamas and Central and
Eastern Caribbean
DURING
hurricane
season, and sailing/cruising to/from Bahamas and
Caribbean
DURING hurricane season...as well as
marine
weather in general, and tropical weather in particular, being a forte of mine (as an amateur), and with my personal experience with being on-board (at anchor) during three Cat 3 Hurricanes in the past 10 years, as well as sailing thru TS Olga (in gale conditions) for 3 days, etc. etc.....I'd like point out some facts and add some helpful hints...
I usually agree with 'ya Mark....but not here...
Quote:
Originally Posted by
MarkJ
You MUST leave well before the end of June. Yu want to be i Chesapeake by the end of June. Thats what Cornel says. Or you may get a neat little hurricane up your butt.
That may be what Jimmy writes in his book.
But, this should NOT be a "MUST", rather it should be a "recommendation"...
My primary source for "tropical weather" (Tropical Storms and Hurricanes), is the US National Hurricane Center, part of the US National Weather
Service
/ National Oceanic and Atmospheric Administration....and all info/charts/graphs I'll post here are from them...
1) In the Atlantic Basin,
in July
, on "average" we have one "named storm" (either "tropical storm" or "hurricane"), every one to two years...
2) In the Atlantic Basin, historically since 1966, the average date of the first "named tropical storm" is July 9th, with the first "named storm of hurricane strength" occurring by Aug 10th...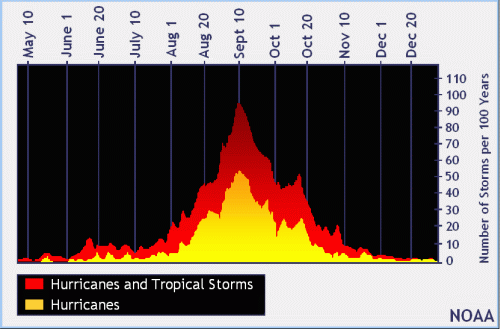 3) The US National Hurricane Center will issue its 2014 Hurricane season outlook in the next week or two....but both Univ of Colo and WSI/Weather Channel have already issued their outlook, predicting a slightly quieter season than normal, with slightly below average numbers...
4) BUT...
But, nasty Hurricanes CAN develop and wreak havoc in July!!!
In recent years...
Hurricane Dennis formed in the
Gulf of Mexico
, on July 10, 2005, and strengthened to
wind
speeds of 145mph...
Hurricane Emily formed south of
Jamaica
on July 19, 2005, and strengthened to winds of 160mph...
Hurricane Bertha formed SE of
Bermuda
on July 8, 2008, strengthened to winds of 120mph...
And, another Hurricane Bertha formed just north of the
Dominican republic
on July 9, 1996, and strengthened to winds of 115mph...
And, there are other weaker storms that have formed in these areas in July, over the years....
Which is why I mentioned that you should keep an eye out for "tropical weather"...
5) Here are some formation origins for Atlantic Basin tropical storms and hurricanes, that time of year...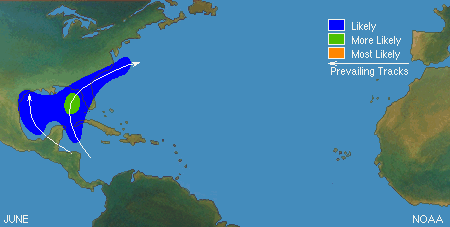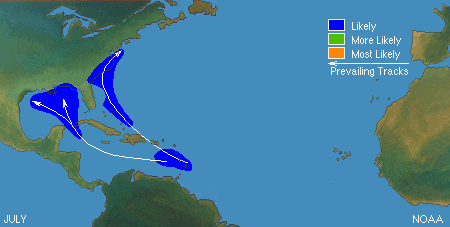 6) In 2013, the US NHC experimented with a "5-day tropical outlook"....and have decided to implement this officially as operational in 2014...
Quote:
During the 2013 hurricane season, NHC extended the time period covered in the Tropical Weather Outlook text product (TWO) to 5 days on an experimental basis. This year, the experimental 5-day TWO forecasts become operational, and the form of the TWO will change slightly. In addition, NHC will introduce an experimental corresponding 5-day Graphical Tropical Weather Outlook (GTWO) to accompany the text product.
The new 5-day GTWO, available for both the Atlantic and eastern North Pacific basins
beginning July 1, will indicate the formation potential of individual disturbances during the
This will give everyone a much better idea of what might be developing....as in years past, we used to get just a "48-hour outlook", and then we'd have to look closely at the 96-hour charts (with a 120-hour forecast) to see what
might
be forming in the future....
But, since last year, we now get a "5-day outlook"!!
7) FYI, if you're interested in the "accuracy" of the US NHC Hurricane track and intensity forecasts.....they are getting much better!!
Typical track errors for up to 72 hours are very small, and should be heeded....
Track errors out to day 4 and day 5, are a bit larger...but still getting better every year!! (the day 4 "probability cone" is now only 170 nm across, and the day 5 "probability cone" is 226nm)
Have a look at these charts, for the details...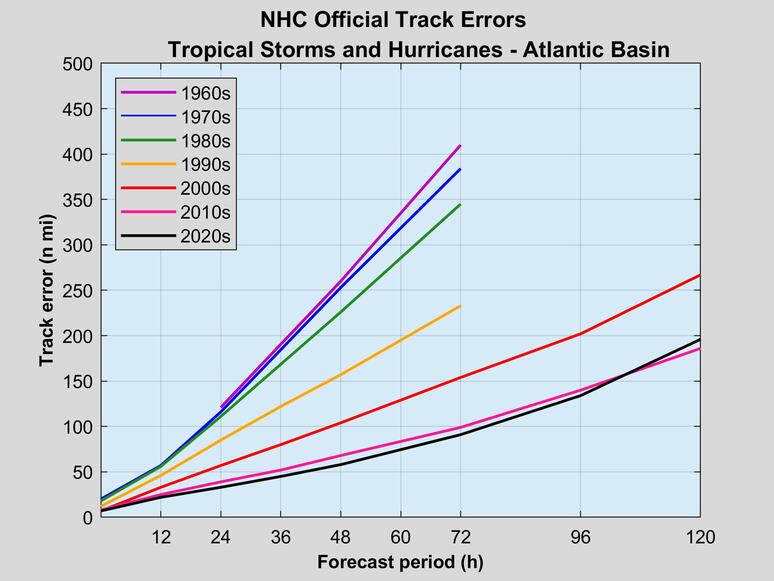 Last 5 years: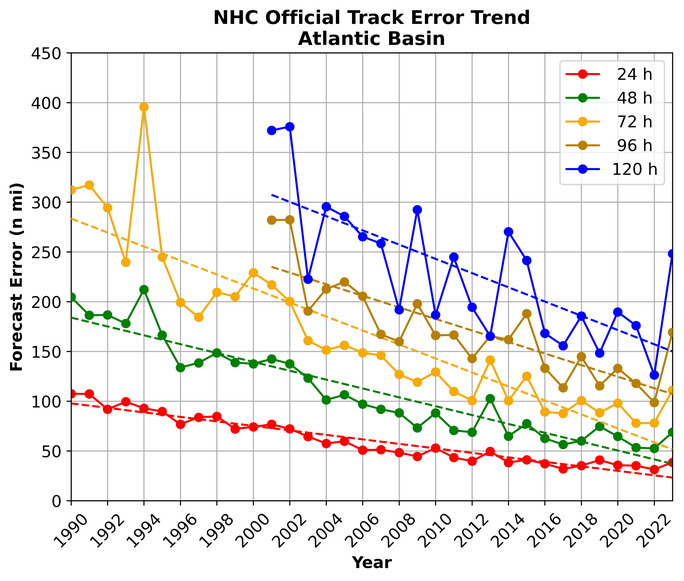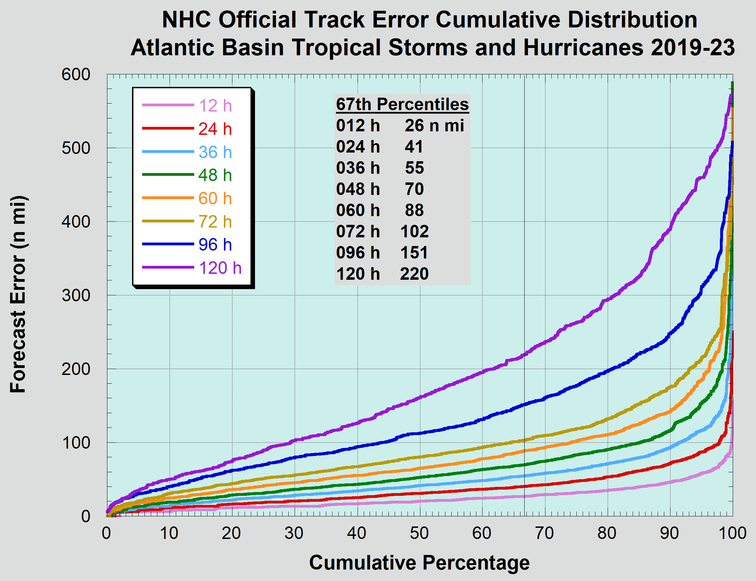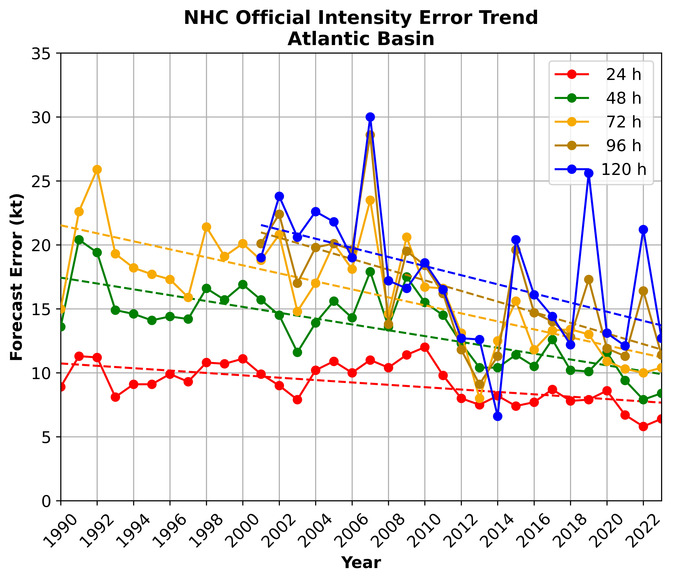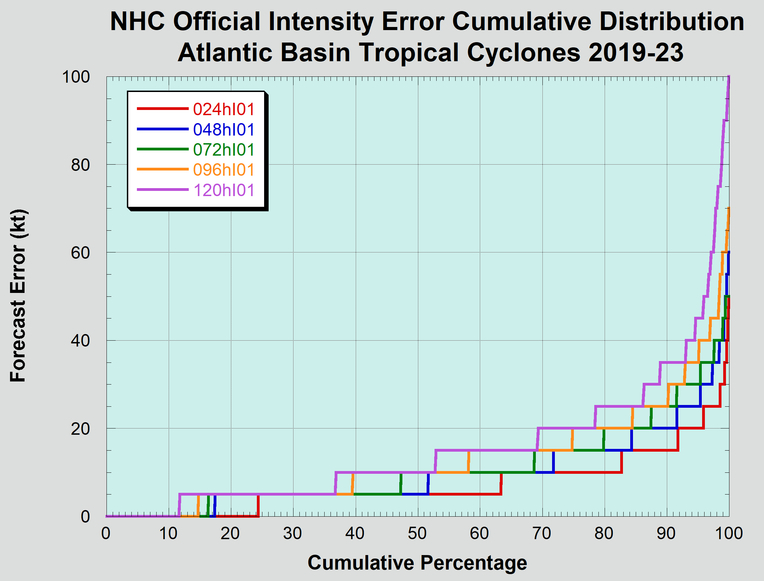 So, to sum up....
You CAN sail in the Caribbean and Bahamas, and to/from the Caribbean and the US in July....
But, you should really be monitoring tropical weather development!!
I recommend listening to the US NWS/NOAA Offshore Marine Weather Forecasts, which are supplied by the US Tropical Prediction Center at the NHC....
You have access to these 4 times each day (as well as more often when tropical weather has developed), from the USCG HF Broadcasts....for FREE...
http://www.nws.noaa.gov/om/marine/hfvoice.htm
I hope this helps...
Fair winds...
John
s/v Annie Laurie