Well it seems tropical waves are becoming abundant in the Atlantic now. Since a few weeks ago they have been a regular feature on the forecasts, with a couple of waves crossing the
windward islands
each week. Apart from grey skies and a bit of rain they haven't packed much punch. No
electrical
storms that we have seen. I'm not sure if the grey skies and rain are before or after the wave passes.
Being our first time experiencing the region, Id like to get a handle on what these tropical waves are, and also how to understand the forecasts relating to the waves.
Below is todays
forecast
and synoptic chart.
I understand most tropical depressions form from tropical waves so understanding the factors that can intensify the tropical waves is important to me.
A couple of questions regarding the
forecast
:
They refer to convection, moisture,
wind
sheer and saharan dust. What do these features have to do with further development into a depression?
I notice the isobars are generally kinked at the tropical wave. From memory this can aid to create a closed isobar and form a depression given the right conditions.
How do the trades effect further development. Is it unlikely when they are stronger, say over 20kn, than when they are weaker at around 10kn?
Thanks for any advice, I really would like at this stage just to understand the forecast as it is written below so perhaps one of the
weather
gurus can do a laymans explanation of one or all of the three tropical waves mentioned below.
Cheers and thanks
Monte.
...TROPICAL WAVES...
A TROPICAL WAVE IS OVER THE EASTERN TROPICAL ATLC WITH AXIS NEAR
28W MOVING W AT 10 KT OVER THE PAST 24 HOURS. THE TOTAL
PRECIPITABLE
WATER
IMAGERY SHOW THE CENTRAL AND SOUTHERN WAVE
ENVIRONMENT
CONTINUES EMBEDDED WITHIN A MODERATE TO HIGH SURGE
OF MOISTURE. IN THE NORTHERN WAVE
ENVIRONMENT
...METEOSAT
SATELLITE
IMAGERY DEPICT SAHARAN DRY AIR AND DUST...THUS
LIMITING THE CONVECTION TO ISOLATED MODERATE WITHIN 120 NM
EITHER SIDE OF ITS AXIS S OF 09N.
A TROPICAL WAVE IS IN THE WESTERN TROPICAL ATLC WITH AXIS ALONG
45W MOVING W NEAR 10 KT OVER THE PAST 24 HOURS. THE TOTAL
PRECIPITABLE
WATER
IMAGERY SHOWS THE WAVE IS MAINLY EMBEDDED
WITHIN A MODERATE SURGE OF MOISTURE EXCEPT WITHIN 200 NM EITHER
SIDE OF ITS AXIS FROM 09N TO 12N WHERE ABUNDANT MOISTURE
SUPPORTS A SCATTERED MODERATE CONVECTION.
A TROPICAL WAVE IS IN THE SW
CARIBBEAN
BASIN WITH AXIS ALONG 78W
FROM 18N TO
PANAMA
MOVING W NEAR 15 KT OVER THE PAST 24 HOURS.
THE TOTAL PRECIPITABLE WATER IMAGERY SHOWS THE WAVE IS MAINLY
EMBEDDED WITHIN AN AREA OF RELATIVELY DRY AIR THAT IS HINDERING
DEEP CONVECTION.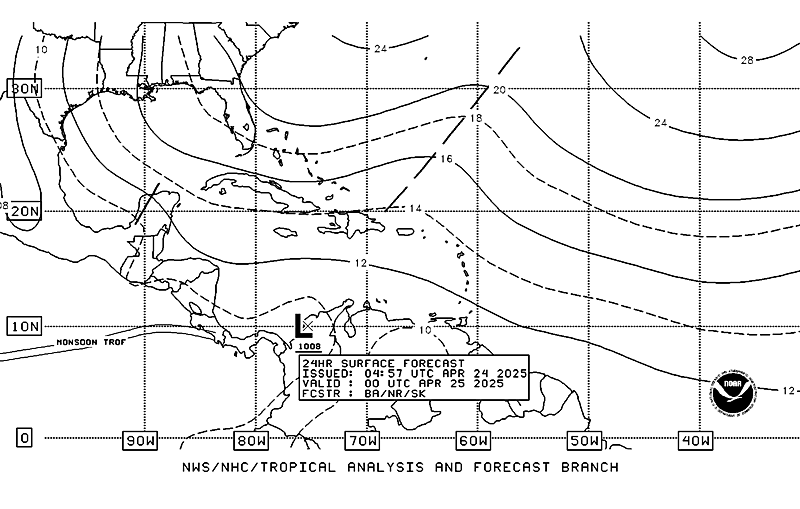 __________________