Jonathan,
Regarding masthead mounting, there are 2 issues, windage and vibration. (You already spotted
maintenance
.)
On land, vibration is the reason you don't see them on top of houses, but on a separate tower near a house. Not sure I'd want a vibrating thing "up there". I still haven't fully balanced our Fourwinds-ii, and I've shut it off in the middle of the night to help get some sleep. (There's one particular rotation speed which vibrates the most, probably a resonant frequency with the 12.5 foot tower it's on.) On top of the mast it might stress the
rigging
too, not sure about that one.
Windage would be the other reason. It's windage in the wrong spot and would affect sailing performance, comfort, and perhaps even storm survivability.
Keep thinking, these are the same thoughts that people go through when they get a wind generator.
One more thing. When I was planning more-solar versus wind, I looked at the average wind speeds for the area where we anchor. Now "living it", I'm finding that when the
weather
people say "average wind" for a given month, I think they mean "the average of the daily peak winds during that month". 70% of the time there isn't enough breeze to get the wind generator up to the 13 volts (plus a fraction more voltage to overcome the loss in the diode) needed to start
charging
.
For instance, take a look at this useful site:
Weather History
After that page comes up, substitute the 3-letter identifier for your nearest
airport
, right after the "K". Also substitute the date you are looking for. The above example is for Montauk (MTP) on July 31st, 2011. That's why the address has "KMTP/2011/7/31/" in it.
In that chart you'll see the average wind speed is 5 knots or lower, on 22 out of 31 days. But, if you look at data published on other sites, you'll get a completely different conclusion. Look at the July data point/range on this graph from city-data.com: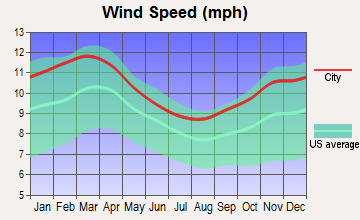 The real average is nowhere near 8.75 mph.

By the way, I love the fact that every once in a while, we get wind enough to top off our batteries. However, if I had to do it over, I'd get a 215 Watt solar panel and put it on top of our

dinghy davits

, or a

Honda

2000 generator. Either way I'd be ahead on

money

(for just the mountings and fittings!) and way ahead on the many hours making a storm-worthy mounting system for the wind generator. Plus there'd be less vibration and no dump loads needed.

Finally, every post regarding wind generators needs to include this seemingly extreme statement:

"Do not get an AIR-X or other noisy wind generator and if you do, stay the hell away from me."

The smaller wind generators can sound like a Cessna 152 taking off. Perhaps it's the way the blades are designed to spill air in strong winds. Regardless, it's not something you want to subject yourself or others to.

Regards,

Brad

__________________