Hi All,
So here we are victorious in our "first to finish", with a solid 5
boat
lead mood, when all of a sudden a call from bellow of smoke?
We had no sooner crossed between the committee
boat
and the mark, and fired up the iron genny,when one of the crew says in a rather nonchalant manner "hey there is some smoke down here?" Well the
skipper
and I immediately kill the
engine
and pop the genny back out while calling for a shut down of the
battery
selector switch. Within seconds the smell of an
electrical
fire is filling the
cockpit
and the
cabin
looks like a Cheech & Chong
movie
only it doesn't smell quite as good..
I grab the
helm
and the owner goes bellow and begins digging into things. About 20 minuted later he pops his
head
up with a 24" long piece of bare 14 ga SOLID copper wire. I chuckle and say "see solid wire has no place on a boat!!".. Unfortunately I had no idea how wrong I was! That 14ga SOLID copper wire had been 14ga tinned multi stranded wire with a jacket just minutes before!!
Never in my 35 years of sailing have I seen a two foot long piece of multi-stranded wire turned into a piece of unjacketed solid copper so fast!!
Now I know the "alarmist crowd" may come out in full force on this thread but let me assure you this boat (it's the "red boat" for those in the know) is kept in pristine mechanical and physical condition This is not a boat that is left much to chance on ANYTHING and the owner spares no expenses keeping her up!!
So here's the
safety
reminder!!!!!!

FUSE YOUR BATTERIES AS CLOSELY AS YOU CAN TO THE BATTERY POST!!!!!!!!


So here's what we found. The ground lead for the metal cigarette lighter and female quick connect that looks like this picture came disconnected!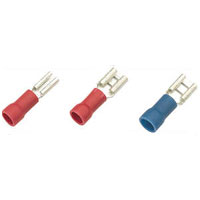 When it did it began swinging into the stud for the house bank on the back of the battery selector switch! OUCH!!!! Who said there is NO vibration on boats?
I'm sure the "no vibration on boats" crowd will be commenting at some point..
Remember this wire went straight to the ground buss and was rubbing the battery selector switch terminal post a direct ground short of the worst type!
Eventually it hit hard enough, possibly aided by the vibration caused from starting the
engine
, to literally weld itself to the stud and then turn the wire to a solid conductor! I'm not kidding when I say that I could not decipher this wire from a piece of Romex used in house
wiring
. There was no physical sign of any stranding left anywhere and no sign of any tinning either. this wire got so hot there was not even any residue left from the melted jacket just BARE copper..!
Luckily this was only a 14ga wire and it actually blew like a fuse after it thankfully got hot enough. A fuse at the battery post such as a ANL type like the one bellow would have stopped this ground short in about a nano second!!:
Unfortunately, this fuse block is one of those items the owner had been "GOING to add" but as boats go it kept getting further and further down the "to do list" as other chores and projects piled up... We all are guilty of this type of mistake!! "Oh I'll get the flares on the NEXT trip to West
Marine
..."
So what have I learned?:
#1 Be very, very, very careful using "quick connect" terminals on boats! If you MUST use them use the fully insulated style and NOT the un-insulated ones!!! EVEN ON GROUND WIRES!!! ABYC says the ONLY connectors for use on boats is ring or "captive spades" so quick connects don't typically comply with the ABYC suggestions which are a general, good guideline. Fully insulated quick connect crimps look like this:
#2 You should make every effort protect the studs on the backs of battery switches or ANY other large amp cable terminals with post caps!!


#3 Any wire in the vicinity of HOT terminals needs to be secured so there is NO WAY, even if it came disconnected, to touch a HOT component. Zip ties are CHEAP!! This wire was zip tied within 6" of the cigarette lighter but it was still not enough to prevent it from falling onto the battery post!!!

#4 And finally the MOST important component is that ALL battery banks MUST have a fuse as close to the battery as possible!! ABYC suggests 7" but I know mine are about 9" to 10" (of total cable length for strain relief reasons) as it is the closest I could get them..



DO NOT wait, as my buddy did, to fuse your batteries!! If this has been on your list please, for your own sake, MOVE IT TO THE TOP!!!!!

BTW the post this wire came in contact with was the direct to the battery and even turning off the switch DID NOTHING. The only way we prevented a fire was because the wire melted in half and acted as a fuse because it was a light 14 gauge run . If this had been a 10 ga wire, for say the macerator, we may have burned the boat to the water line last night..!!!

Think about it!!!!!


Call me an alarmist but if you witnessed what I saw last night you'd have been buying fuse blocks TODAY!!!


Here's a picture of my ANL fuse block so it can be visualized.

With cover off:



With cover back on:




__________________