Those that know me, know I hate to do just the ordinary. On the
forums
there are lots of talk of LED
lighting
. Like most initially - I bought according to what was available at the Chandelier shops etc..
Forewarned - some will find this post useful, others will laugh and go 'why bother.'
Approaching soon that live aboard / full time cruising lifestyle - I wanted a
lighting
system that was capable of being used in many different ways. I knew LEDs were the way to go and I had long ago purchased a ton of singleton use LEDs of all kinds. This summer, I thought about all those purchases and how much work is required to devise a system and how so manual the usage was.
Thus, I started investigating RGB lighting. In the automotive segment, there are a ton of light bars and strips used to give that glow. Yep, we may mock it - but when you think about it - sometimes the "not that" can sometimes be applied to better uses elsewhere.
My goals were based on my experience of sailing at night or
anchoring
out:
1. On the hook / sailing at night time:
Visibility of the vessel. Many times coming into a harbor where there are
mooring
balls or
anchoring
you may never see them at all (esp at 3am) or the only thing they have lit is their masthead light. Almost impossible to range because at night things that appear close can be further and those that look far away can be way closer. Coming in to
dock
at night - there is rarely enough light to see anything until just upon the
dock
much less on
deck
.
2. Eye fatigue. Use of bright spotlights, non configurable
interior
lighting, etc cause that blur and re-adjustment at night.
3. Entertaining / enjoying the evening on-board in the evening- mood lighting.
4.
Distress
situations and being able to pronounce the location visually.
5. Having the lighting be a low draw.
For
interior
- DR LED and maybe some others sell the dual white / red
led lights
. During my
service
on board submarines green was the preferred interior lighting unless a call to battle stations in which everything went to red (at least in the control room). Personally, I prefer blue as it is even more calmer and how I have my Airstream rigged.
On 'HG' I am completing a multiphase
project
that integrates
remote
control of the lighting, and color selection of the lights.
Visibility of the
boat
- I have 96ft of RGB Led strips installed. 3 zones in the design: The bow, the
cockpit
, the
mast
. What is cool about these leds is they are not
rope
lights and when installed look like (when not lit) just a stripe. When lit - they are super bright and can provide a glow while in dock that illuminates well over 50 ft.
Above: Starboard bow - configured in blue - still visible during daylight.
Via mobile
camera
- at night. A lot of the light is washed out.
I'll post later the whole
boat
done in the zones I have designed via 16' strips
What I used and from
(link)
- just exterior.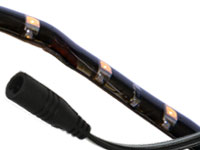 These Waterproof Ribbon LED strips are designed for use in an
environment
to protect against
water
and other elements. These LED Strips are built on a flexible circuit board allowing you to bend and twist in just about any direction. Each Ribbon LED strip comes equipped with a 3M
adhesive
backing and can be stuck just about anywhere.
(link)
and: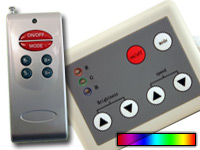 (Direct link)

I used CAT-5e cable and each pair stripped and twisted together to make the wire runs. Make sure connections are

marine

quality etc.

I like these although have to state. The rear cockit ones are going from black to a milk white and will write the company about it - leds work but seems for waterproof not so as of yet. The cool thing is being able to select but if you play around with the product the common positive and common positive are important.

At any rate will write more as I have the interior non waterproof, as well as others that I am using to covert standard Home Depot fixtures into RGB lighting....

__________________