Hi All-
For sale
: PUR Watermakers PowerSurvivor 40E (Model MROD-40E; 12volt; 4 amps)
for sale
with manual. Never installed. Asking $2200; reasonable offers considered.
Inherited this unit and not planning on using it. If you're interested or have any questions, please don't hesitate to ask. All items in unit are pictured. If you're in the US, we'll cover
shipping
for you. Accepting payment through PayPal.
From Amazon:
Produces 1.4 gallons of
water
per hour on 4 amps, yet it s compact, lightweight and simple to operate. If your 12 volt system should fail, the Power Survivor 40E can be hand pumped with the attachable handle that comes standard with the unit.
Simplicity - The 40E contains 40% fewer
parts
than its popular predecessor, the PowerSurvivor-35. Simplified construction and rugged design make the 40E remarkably easy to install, operate and maintain.
Compactness - Extraordinarily compact, the 40E can be installed in the nooks and crannies otherwise unusable in many yachts.
Efficiency - No
watermaker
draws so few amps. Using only 4 amps, the 40E can run for extended periods on alternative power alone.
Durability - The heart of the 40E is the rugged stainless high-pressure pump. Armed for the rigors of the
marine
environment
, this
watermaker
is built to last. We're so certain, we've covered it with a superior warranty: 3 years on most components.
The PowerSurvivor-40E delivers 1.5 gallons per hour. It is the only power watermaker that converts to manual operation in emergencies
Specifications:
Power Requirements: 12 volts DC (draws 4 amps)/24 volts DC (draws 3 amps)
Water
Production (+/- 15%): 1.5 gallons/hour (5.7 liters/hr)
Weight: 25 lbs (11.33 kg)
Dimensions - Pump: Height: 6.75" (17.2 cm), Length: 16.5" (41.9 cm), Width: 15.5" (39.4 cm)
Dimension - Prefilter Module: Length: 12" (30.5 cm), Diameter: 6" (15.2 cm) (allow 7"(18 cm) for hose bend)
Feedwater Flow Rate: 20 gallons/hour (75.7 liters/hour)
Salt
Rejection: 98.4% average (96% minimum)
Thanks!
-Jamie
jamieannhultgren@gmail.com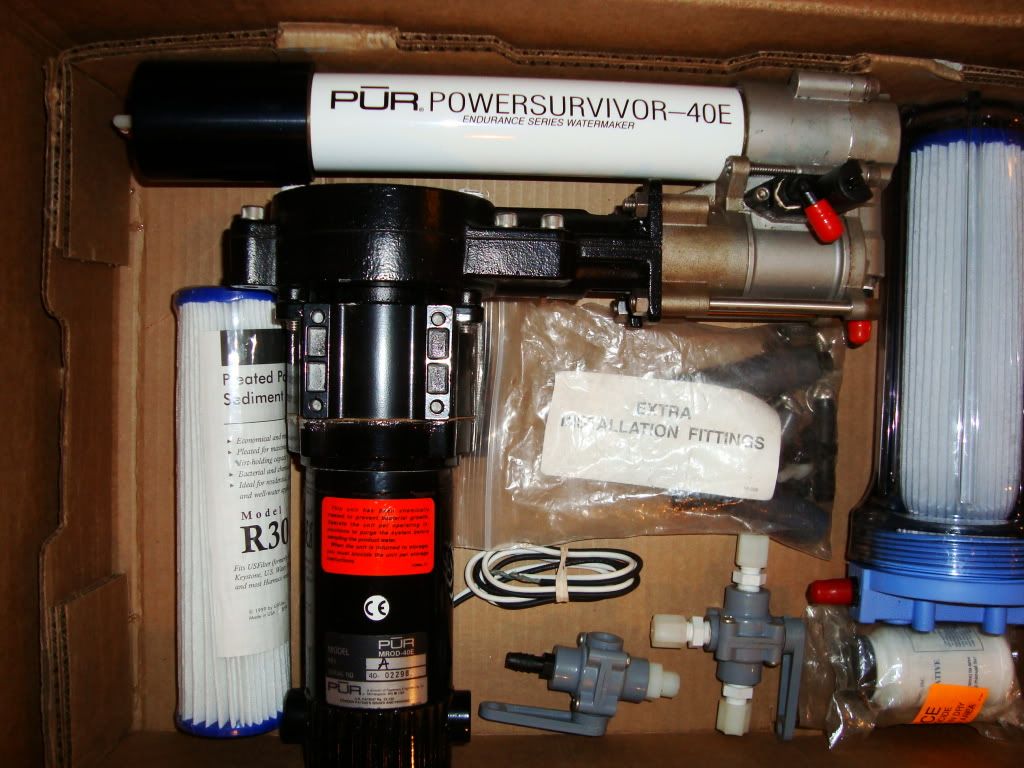 http://i1211.photobucket.com/albums/...DSC03811-1.jpg
http://i1211.photobucket.com/albums/...DSC03810-1.jpg