Hey Everyone,
Starry Horizons
just completed the big jump across the Pacific, and since I'm a data junkie, I figured I'd share some of the numbers we tracked. I was pretty jealous of some of our friends on an
Antares
who had crossing times from several other
Antares
that they could use to plan, and if we're being honest,
race
against. Hopefully, this thread will be the start of something similar for the Helia.
With this being an El Nino year, we got pretty lucky with our winds. We had to
head
further south to get out of the doldrums than I'd hoped, but once we found the trades, they were pretty good and consistent (15-18 knots AWS, typically out of the SE) and we had some good speeds. In fact, up until about day 13, we were on pace for a 17 day
passage
. Unfortunately, the winds then died and shifted to come almost from due East (right behind us) and we struggled with TWS that was between 7-11 knots for most of the rest of the trip, with some periods of so little
wind
that we chose to just
motor
.
If you are interested in seeing our track, we have a location page on our website (
Our Location - Out Chasing Stars
) and you can see where we've been (Menu in the Upper Right, then find 'adjustments'), all the way back to our start in
France
.
Here is the data:
Total Days:
18.99 if you count favorable time zone shifts, 19.15 if you go by hours
Total Nautical Miles:
3,142
Avg SOG:
6.84

Avg NM/Day:
164.1

Total Engine Hours:
110.7(charging batteries + motoring)
Total Generator Hours:
21 (for making
water
on our 110v watermaker)
Diesel Used (calculated):
112 gallons
Total Diesel at Departure:
175 gallons
Departure From:
Santa Cruz,
Galapagos
Arrival At:
Bay of Vigins, Fatu Hiva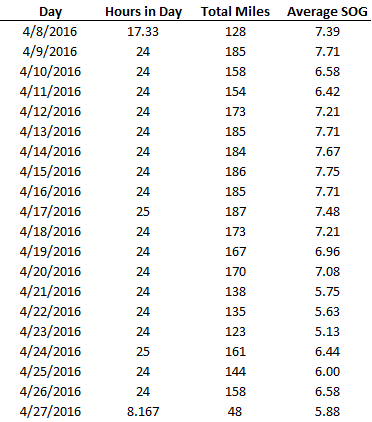 A couple explanations of the data:

1) I do 24 hour calculations from 7am-7am, ending on the date in the left column. So we left the

Galapagos

on 4/7 at 1340, which meant that at 7am on 4/8, we had been sailing for 17.33 hours.

2) Days that have 25 hours are days we decided to do time zone shifts. The last day had an hour and a half time zone shift which meant we arrived at 1330 local

Marquesas

time.

I would love for other Helias to chime in and share whatever info they have as well. I know that Ryan and Tasha on Cheeky Monkey are headed this way, so hopefully we'll at least have info on 2 Helia crossings soon. As for now, we're enjoying the

Marquesas

(and the almost non-existent wifi!) soon to be heading to the Tuamotus so I'll check in as often as I can.

Cheers,

David

s/v Starry Horizons

__________________