I made (put together)...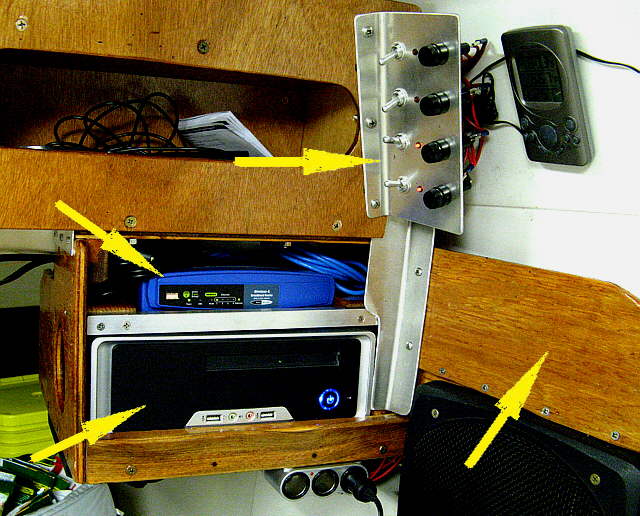 ...the one above 2 years ago. I use it on both boats and at home (on a 12 volt power-supply).
The man reason for building it was for
low power
consumption
(about 10 watts--computer alone) and to use for a
chartplotter
with
OpenCPN
and SeaClearII. To make it easy to use in that manner I found a motherboard with...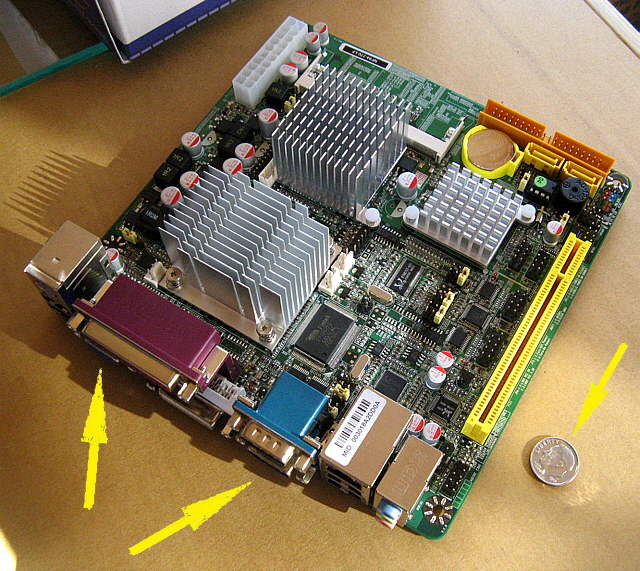 ....serial
ports
and a number of USB
ports
. The case is just big enough for a
DVD
drive and also one 1/2 high board if I ever needed one.
The computer alone in idle mode with the 16 inch
monitor
on has a combined draw of 1.8 amps and about 2.2 amps when the hard disk is being accessed. When the router and Bullet 2HP
radio
(for WiFi) are turned on the amps go to about 2.4 amps without the hard disk being accessed and about 2.8 with it, so max. wattage is about 33 1/2 watts.
For
WiFi
I use a Bullet 2HP
radio
which has worked out to 4+ miles.
It doesn't have the fastest processor, but fast enough for all that I do and I like it since with the 320 gig drive I have all of our web-site and everything else we have in the way of pictures and programs and don't have to transfer the data back and forth between
computers
going from home to the boats. On the road I do use a
laptop
though.
The build is here along with the long distance
WiFi
stuff....
Compurer-Chart Plotter-Navigation Index
Total build cost of the computer was $491 and ...
http://purplesagetradingpost.com/sum...artPlot-6.html
... I'm happy with that as it has a lot of advantages over our 2 laptops and any other laptops I see out there power wise and function wise for how we are using it.
=======================================
Thanks for the link. That looks like it might make a good upgrade for our system. If someone is building, that built-in power supply running off a wide 12 volt range will save them $50-$80 vs. the power supply I had to buy to do the same thing. I am wondering if the mother board would be noticeably faster than what we have, 1.86 vs. 1.6 Ghz? It is a dual
core
, but all of the
software
I run is old stuff that probably wouldn't take advantage of the dual
core
??
In another year or so I'll probably build another and try to find a faster processor that is also low on power needs,
Sum