I just got the new
Garmin
741xs for the
helm
area of my Larson Cabrio 280. Cost with tax close to $1900 total. I was going to use a NavPod enclosure to help secure it from walking away, but it blocked too much of my view up there. It looks like I will be using the bail mount bolted through the
fiberglass
horizontal flat part of my console.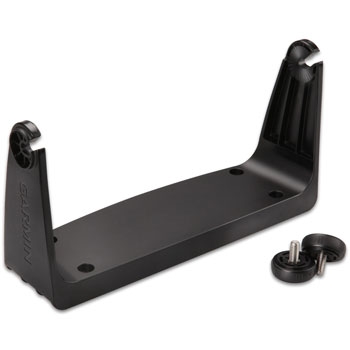 Has anyone seen or fabricated a bail mount made of thick
aluminum
or
steel
? I was thinking of making one out of 1/4 inch flat stock, either bending the sides in a press brake, or just welding the uprights to the base. i would drill one hole on each side for the key-lockable replacement mounting knobs i see online. i would use another piece of 1/4 inch flat as a backing plate under the
fiberglass
and mount it with round
head
carraige bolts down through the top side of the bracket.Tightening the nuts underneath, (accessed by removing the group of rocker switches right below). would be slow and tedious, with my right angled power socket wrench, but i would only have to do it once.
does anyone know if such a bracket is available off the shelf? My TIG skills are a bit rusty, so i would probably stay away from fabricating
aluminum
or stainless. Any other mounting suggestions or ideas (other than "take it with you when you leave the boat") would be appreciated.