The proper Twistle (or Twizzle) Rig, uses two poles coupled in front of (not to) the
mast
. I've only tried a twin headsails with poles-to-mast arrangement, but can comment on that.
And, I can only compare this to the wing-and-wing configuration, with a poled-out
genoa
to port (for example) and the main out on to starboard. I've not tried poling out my staysail. My staysail is probably too small to provide the power, or the effective balance I would want.
I spent a couple days running twin headsails in 2008, halfway home from
Hawaii
and coming over the top of the Pacific High. I have a twin-groove
furling
foil on the headstay, so using a spare
halyard
I hoisted my spare
genoa
. If I had wanted to furl the genoa I would have had to first drop the second headsail. I had a telescoping whisker pole to port, and used a snatch block at the end of the boom to hold out the starboard genoa sheet (my spin pole was broken):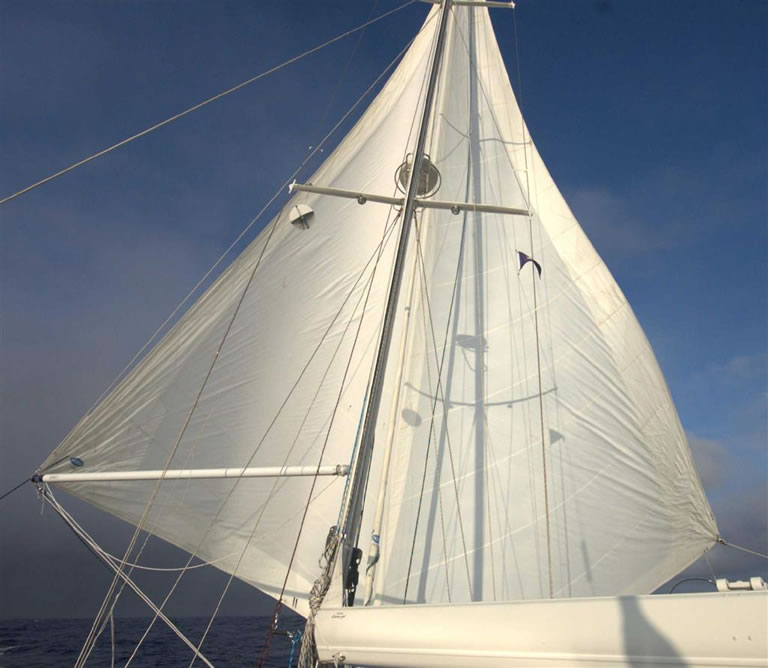 (more photos of the rig here:
VALIS
)
I found the twin-headsail configuration to be very forgiving and comfortable. With a strong breeze and seas on the quarter, the wing and wing genoa/main arrangement gave us a lot of rolling and yawing. The center of effort for the main is well aft and to starboard, while the center of effort of the genoa is forward and to port. This gives a strong turning force. Combined with the swells it was a very uncomfortable ride. Switching to twin headsails gave us a much more balanced rig, and the forces are naturally working to keep us pointed downwind. There was much less rolling and we sailed a straighter course.
I am considering having a twin headsail made, so I can run it up the
furler
(after dropping the regular headsail). This way I could reef/furl both sails if the
wind
picks up.
I'm not sure what effect the pole arrangement of the genuine twizzle would give, but it should be similar in most conditions.