Quote:
Originally Posted by
gamayun
A friend says the spot where that wave is breaking is actually about 35-40' of
water
along the Bonita Channel, which loses its "channel" in these conditions. The Potato Patch is a shallower area west of there and should be avoided pretty much always.
Here's good info on the bar right outside the Golden Gate, and specifically, the Bonita Channel, where that
trawler
was:
The San Francisco Bar | CoastsideFishingClub.com
Thanks for reminding me about this stuff. It's good to have the refresher whenever sailing in that area.
I believe that we are indeed seeing the Potato Patch, or at least Four Fathom Bank. Notice the buoy in the video -- that looks like buoy"RG" WSW from the Pt Bonita light. See the chart in your linked article: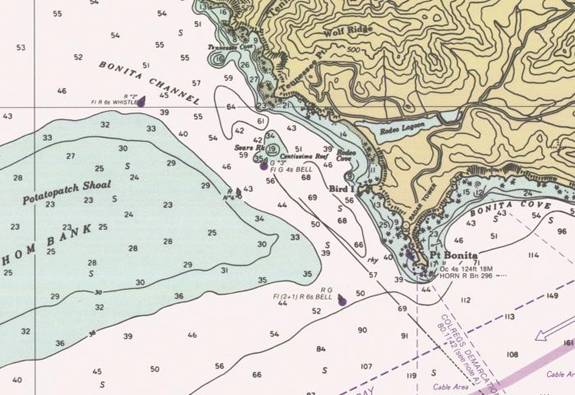 The Bonita channel hugs the shore north of the point.

For what it's worth, I think more boats have been

lost

in the "south channel", which is a channel in name only.

__________________